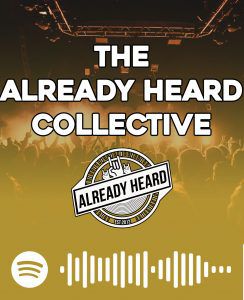 Late last year, we launched a new, standalone playlist called 'The Already Heard Collective'. The playlist consists of our personal favourites from the Already Heard team along with contributions from our Patreon supporters.
Today we've updated the ongoing playlist with songs selected by AH writers and Patrons.
You can support us on Patreon from just $1 a month (that's 77p for us folk here in the UK).
Here is what's new on 'The Already Heard Collective' playlist.
---
Sêan Reid
Our Nameless Boy – All It Is
Holding Absence – Monochrome
American Football – Uncomfortably Numb
Employed To Serve – Force Fed
Ben Mills
Blood Youth – Cut Me Open
Culture Abuse – Bee Kind to the Bugs
Wage War – Low
Andrew Davidson
Green Gardens – I've Wanted
Modern Error – Separation Scars
Thee Azmatics – Pathetic
Ian Kenworthy
Envy On The Coast – The Great American T-Shirt Racket
Mask of Judas – The Conspirator
Comeback Kid – I'll Be That
Carrie-Anne Pollard
Borders – 731
---
Patreon Picks
Want to promote your band or have a song that you think everyone should hear? As a supporter of Already Heard on Patreon, you can contribute songs to the 'AH Collective' playlist.
John Allen
Blowfuse – Angry John
A Time To Stand – Diovan
Chris Garrett
John Garcia – Space Vato
Hypophora – To Hear; Listen
Basement – Nothing Left
Phil Campbell & The Bastard Sons – Welcome To Hell
Big Head Todd & The Monsters – For All Time
---
Thank you to the following people for supporting us on Patreon.
Joe Booley
Will Purcell
Sam Stead
Chris Garrett
Chris Coleshaw
Finnbar Connell
Mark Bussey
Laurie Cottingham
Marty Ryan
Jamie Otsa
Crysta
Georgie Robbins
---