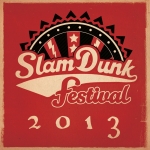 The first set of bands for Slam Dunk 2013 have been announced, with All Time Low being announced as headliners.
Other names announced for the three day festival are Pierce The Veil, Four Year Strong, The Early November, The Skints, The Wonder Years, Streetlight Manifesto, Polar Bear Club, Woe Is Me, Senses Fail, Fireworks and The Story So Far.
Slam Dunk 2013 will see the Nationwide festival expand to three days, with the third day taking place in the Midlands at the Civic in Wolverhampton. Like previous years day one will take place in Leeds with the following day taking place in Hatfield, Hertfordshire.
Festival owner Ben Ray made the following comment:
"Once again I am pleased to have such a great lineup to announce. I am especially pleased this year to announce a brand new 3rd full festival. Originating from the Midlands myself, I have always wanted to take the festival there and now after years of work building the brand across the country I feel I can now take it home! I hope fans across the country will continue to support the growth a homegrown UK festival, and let's make 2013 a big one together."
Full list of band announced so far:
All Time Low
Pierce The Veil
Streetlight Manifesto
Woe Is Me
The Early November
The Wonder Years
Fireworks
Four Year Strong
The Story So Far
Senses Fail
The Skints
Polar Bear Club
and more to be announced.
May
Saturday 25th Slam Dunk Festival North Leeds University
Sunday 26th Slam Dunk Festival South Herts Uni, Hatfield
Monday 27th Slam Dunk Festival Midlands Wolverhampton Civic
All shows are 14+ and aftershows 18+.  Onsale: Friday 7th December at 10am.
Tickets are £34 or £38 including the aftershow party.