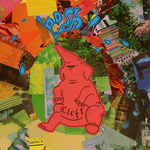 Cleft's 'BOSH!' is a perfect example of 'made to be rocked-out live like there's no tomorrow'. In fact the first thought that came to my mind after completing my first playthrough was how much I was already bummed that I'd likely not get to catch this thunderous duo wreaking havoc soon enough. This progressive bromance mix adventurous rhythms, straight-up riffage, brains and melody into a satisfying cocktail that eschews the migraine-inducing of the more technical-oriented end of the spectrum in favour of some accessible, yet challenging, fun. Warning: turbulence ahead.
From '12 Second Panda' on, the excitement levels hit the ceiling and barely waver from then on. In fact the opener is one of the better examples of Cleft's deft skill at frequently changing things up, something they manage without sounding like they're trying to choke the listener with the amount of things they can chuck into one track Tetris-style. Cleft leave ample space for the riffs to make their presence felt and the softer sections don't feel like anticipative-pauses for the unleashing of another set of riffs.
Behold the groovy licks of the almost bass-like tones of 'Alec Baldwin's Hair's guitar and indulge in a bit of head-banging as they escalate into gigantic, distorted riffs. The same path is trodden with 'Gutter Brush', only where the former is perhaps simpler in execution, the latter cranks up the technical levels on them licks. Even 'Prudendal', most certainly the heaviest track on the album, doesn't go down the "relentless" route, preferring to offer quieter windows in almost bipolar fashion.
There's a bit more of that bat-shit crazy quality on 'Elephant In The Bar Room', in which the only vocals of the album deliver an almost incomprehensible mess of downright insanity. The rhythms are all over the place (in an entirely good way) and the whole experience feels like being inside the deranged mind of a psychopath. Yet it's not all weirdness and brutality. Highlight 'Hostage' manages to do that but also provides both cerebral maths and some delightfully melodic passages to the equation. Closing the album, the track is the most impressive and coherent summary of everything Cleft do well: brains, brawn and occasional beauty. The Kraken has been released.
4/5
'BOSH!' by Cleft is released on 10th February on Megaface Records.
Cleft links: Facebook|Official Site|Twitter
Words by James Berclaz-Lewis (@swissbearclaw)