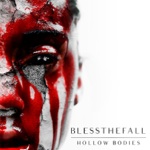 Blessthefall are a band that everyone knows has had its problems, Craig Mabbit leaving the band in 2007 during a UK tour the band was thrown sideways. Recruiting the talented Beau Bokan to take up clean vocal duties, the band got back on track and has since released three albums with Bokan. 'Witness', 'Awakening' and this album being reviewed 'Hollow Bodies'.
'Exodus'starts the album off perfectly and brings the electronic sounds we've heard used so well from other bands, as riffs and some lead guitar work are layered on top soon enough screaming vocals power through the mix. Beau's clean soft sung vocals soon make an appearance and bring a lulling feel to the song.
It has to be said when the band are on top form they produce some impressive heavy songs that really pack a massive punch to your ears. 'You Wear A Crown But You're No King' and 'Standing On The Ashes' are two songs that bring every aspect of the band to the forefront. Heavy riffs, guttural screams, pounding drums and some pop sensibility style clean vocals are all blended together really well.
On previous albums frontman Beau's voice hasn't be too strong but on certain songs here he gets to showcase how much his voice has improved. An all Beau song is 'See You On The Outside' with not a scream to be heard it's shows that without screaming the band could easily produce impressive songs. 'Hollow Bodies' is another very Beau prominent song with the odd screams, 'Déjà-vu' has a similar feel and even brings in some more electronic effects to blend into the background of the song.
A song which will sideswipe people is the electronic filled 'Buried In These Walls', Beau really gets to show his vocals off on this song. Singing over some electronic drum beats and slow piano he has an impressive sound to his voice and the song is also a welcomed break from the heavy songs.
This album is the first time the band has guest vocalists and they recruit some impressive vocalists to add their touch to the album. Jesse Barnett of Stick To Your Guns adds his vocals to a very heavy hardcore feel styled song 'Youngbloods', whilst Jake Luhrs of August Burns Red screams and brings out a more faster technical side of the band on 'Carry On'. The last featured vocalist on what is the last track of the album is Beau's wife, the talented ethereal sounding Lights. A love song 'Open Water' sung to each other, Beau sings "it's hard enough to face the world alone, you are the one I'm waiting for I knew it all along, knew it all along". The song builds up and becomes more intense and heavy as the dual vocals intertwine.Lights finishes the song and sings "you are the one I waited for, I knew it all along".
On first listen the album vocally is a lot darker than their previous releases and the guitar work seems to have been stripped right down and is less technical which works well for the band. The screaming vocals feel a lot more visceral and powerful, and really bring some serious punch to the songs. Beau's clean vocals completely juxtapose the screams as they soar through the heavy guitars and bring a calming yet pop feel to the album. Bringing in some guest vocalists is a nice touch but not really needed as the band can impress on their own merits. A band that has peaked, hit the right nerve, solidified their sound and given other metalcore bands a run for their money.
4/5
'Hollow Bodies' by Blessthefall is out now on Fearless Records.
Blessthefall links: Website|Facebook|Twitter
Words by Aaron Wilson (@soundslikeajw)