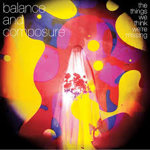 To begin this review, the present reviewer shall describe how he was blown away by Balance And Composure. Seeing them live really put everything into perspective. That same sense of awe that swept him whilst seeing Oceansize had been resulted from watching this Pennsylvania quintet. Since then, this reviewer has watched this band grow into an almighty juggernaut; first album 'Separation' was an impressive debut showing plenty of potential. Now the band has returned with their sophomore LP 'The Things We Think We're Missing', and what an utter marvel it is.
Thematically the band delves into the introspective and desperate, analysing every thread to work out what's important in life. Such themes couple well with the music Balance And Composure craft; in fact it is the music that should be analysed considering how phenomenal it sounds. The band muster three guitars, bass, and drums to play music that is loud and soft in dynamics, whilst the words are carried through subtle to strung vocal chords. 
From the rip roaring ambient haze in 'Parachutes' to the acoustic flow channelled in the gentle to loud shift in 'Tiny Raindrop', the quintet sound utterly compelling to behold. As you can tell this shifting balancing between the loud and quiet is the core to Balance and Composure's sound. Like the 90s influences they wear on their sleeve, the band flawlessly command such a dynamic with a simple brushstroke. Other examples of this include the heavenly melodies that swirl in 'Notice Me' before they ball bust into heaviness.
Credit should be given to the consistent rhythm displayed in the drums by Bailey Van Ellis, which secure a decent amount of tension to the sound as displayed in song 'Ella'. It just helps to maximise the grandiose scale the quintet aim to achieve on this record, and they've succeeded with that well.
Frontman Jon Simmons maintains vocals that flow effortlessly from tender to sharply gruff. It resonates throughout every song, but none more so when he shares the microphone with Anthony Green of Circa Survive on 'Keepsake'. Here, both men contrast and co-operate to deliver a serene and powerful number; Green's higher pitch and Simmons' deeper tone complement each other as if they're a match made in heaven.
Two other highlights that the record contains includes the following. 'Reflection' rumbles in perfection and sums up the majesty that the alt rockers have created through this record; it just has that ability to well all sorts of feelings up in every sense of the body. 'Dirty Head' meanwhile sees Jon Simmons strap on an acoustic guitar for a reflective breather, a moment that is compellingly honest to hear.
Balance and Composure have truly lived up to their promise on this sophomore LP. It is a record that swirls in melody and heaviness, effortlessly flowing from song to song and provides the best in reflective music. The Doylestown band don't shy away from upholding loud and quiet dynamics that their 90s influences have offered them; Nirvana, Sunny Day Real Estate, Neutral Milk Hotel, and even Hum come to mind. 'The Things We Think We're Missing' is wonderful, and a piece of art you should be buying, turning up loud on your speakers and taking it all in whilst gazing at the ceiling on your bed as if you're looking at the cosmos.
4/5
'The Things We Think We're Missing' by Balance and Composure is out now on Hassle Records.
Balance and Composure links: Website|Facebook|Twitter|Tumblr|
Words by Aaron Lohan (@ooran_loohan)