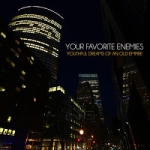 They're a busy bunch, are Your Favorite Enemies. The Canadian sextet only released their second album 'Between Illness and Migration' in March, and they're back this month with a digital EP; just shy of fifteen more minutes of progressive, post-punk noise, loaded with distortion and fired right at the listener. Between touring, recording, and the human rights activism that shapes much of their lives as well as their music, it's a marvel that the band have any time left to breathe. What it was exactly that caused the tracks on this particular EP not to make the cut for March's album release is uncertain, but it allows 'Youthful Dreams of an Old Empire' to serve as an encore of sorts, a three-track wall of sound to keep things ticking over until their next set of plans emerge.
Except, is it quite that? Well, not exactly. Had it indeed found itself on 'Between Illness and Migration', the EP's third and final track 'Satsuki Yami' would undoubtedly have been marked down simply as an interlude, while preceding tracks 'A View From Within' and 'Empire of Sorrows' are clearly the main attraction. The former of these lurks in a realm somewhere between shoegaze and old fashioned prog rock, with an almost soaring guitar line to back up casual, but nonetheless powerfully delivered, vocals. The latter, meanwhile, is a slower affair; an almost Suicidal Tendencies-esque spoken word section creeping in at the track's introduction. It doesn't take long for the piece to develop a bit of a kick however and the six-and-a-half minute track, while perhaps not being one that will enjoy infinite replays from listeners, is a wholly passable effort that skirts the periphery of prog-metal to an emphatic yet reserved degree.
'Youthful Dreams of an Old Empire', then, doesn't leave much at all to complain about in terms of musical content. It isn't a release that's destined to define 2013 for Your Favorite Enemies, serving more as a top-up to 'Between Illness and Migration' than a successor. Fans will be satiated, however, and you can consider that mission accomplished for one of Canada's more intriguing exports.
3/5
'Youthful Dreams of an Old Empire' by Your Favorite Enemies is available now through Hopeful Tragedy Records.
Your Favorite Enemies links: Facebook|Twitter|Website
Words by Antony Lusmore (@Metacosmica)