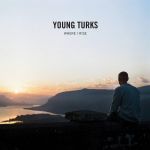 Portland's Young Turks are back with their first release since 2012's debut full length 'Where I Lie' – the aptly named four tracker, 'Where I Rise.' This new record would have been worth a much longer wait. Sure, it's only four tracks and less than ten minutes long but it's excellent. From beginning to end it's fit to burst with energy and excitement that demands and deserves attention.
The spasmodic opening of 'Territo(royally) Pissed' dials in the down and dirty tone of the record. Matt Koenig's vocals are the real deal, passionate and raw; the perfect accompaniment to the abrasive instrumentation that carries the track. Next track, 'Zone K', is a stomper. Far from being original it could even border on the annoying as chords ring out over the pounding of a simple beat. But it's far from it, rather than sounding a pale imitation of the genre defining records of the past, it holds its own – and it's not even the best on show. Young Turks it seems have saved the best for the second half of 'Where I Rise'.
There top speed grit that tears open third track 'Roe vs Wade vs Westbrook' gives a solid impression of how strong things look to become. Later however, as Young Turks produce a slice of shoutback – accompanied melody worthy of Comeback Kid in their prime, the deal is done. With those three tracks the band have paved the way for the best of the best: a storming three-minute hardcore song that appears to be almost entirely about The Night's Watch from George RR Martin's A Song of Ice and Fire.
Does that sound like something you can disagree with: A fast, heavy hardcore song with a soaring chorus and some high fantasy thrown in for good measure? If it does, you probably don't like anything.
4.5/5
'Where I Rise' by Young Turks is out now on Animal Style Records.
Young Turks links: Facebook| Twitter| Tumblr
Words by Thomas Knott (@nounandthenouns)