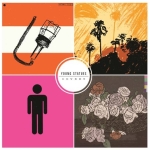 Cover releases are often a mixed bag. When they are done well, they often become the definitive version of a song (Jeff Buckley's version of 'Halleluiah' is the classic example.) However this is rarely the case and I grow tired of listening to endless streams of covers ad infinitum. Just look at the 'Punk Goes Pop' series; never has such a good idea been executed so poorly. However, it is always nice to see your favourite artists reveal their influences and EP's such as Young Statues' 'Covers' 7"/EP open up a different side to an artist previously unseen. The track listing is definitely eclectic and perhaps surprising to some. I personally was only familiar with two of the tracks before listening to this EP, so was intrigued to get to grips with the originals as well as the reworked versions on this EP.
Much to my horror, however, the first song Young Statues tackle is Billy Bragg's 'A New England.' Often imitated, but never bettered, this is a bold opening from the band. The sharp, raspy guitars of the original are replaced by distorted, wavy guitars here and although that doesn't really work the boy/girl dual vocals do. They bring to mind the underrated Kirsty McMcoll version and put a different spin on the track. It just about passes the test with me, an avid Billy Bragg fan and so for that it should be applauded.
Next up is a loving reworking of Ryan Adams' 'Ashes And Fires.' It jangles along at an impressive pace and is a well-worked rejigging of an already catchy song. It seems to capture the spirit of the original but not being a massive Ryan Adams fan I cannot comment on how annoying this might be to hear covered. 
'California Girls' by The Magnetic Fields is the next song to be covered and after searching out the original, this seems to be a straight up cover rather than a reworking. The Young Statues version is very faithful to the original, with the same bouncy, dreamy energy and even a similar vocal performance. It's not exactly rocket science but it is a super lovely song and so therefore I'll let them off for introducing it to my ears.
'Age Of Consent' (originally by New Order) closes the EP and this homage definitely works. The track jangles with the sombre energy of the original, remaining musically similar if slightly more upbeat. Unfortunately, as is the case throughout the EP, the challenge of attempting to cover one of the most iconic bands of the past 20 years overwhelms the young band a little bit. The tracks are definitely fun, but never do they come close to touching the originals. 
This is a solid collection of covers. None of them irritate me too much and there are some novel reinterpretations that save this from being a complete disaster. In addition to this, this is clearly an EP the band have enjoyed making, so at the end of the day, who are we to argue? 
3/5
'Covers' EP by Young Statues is available now on Run For Cover Records.
Young Statues links: Facebook|Twitter|Tumblr
Words by Tom White (@whiteywitters)