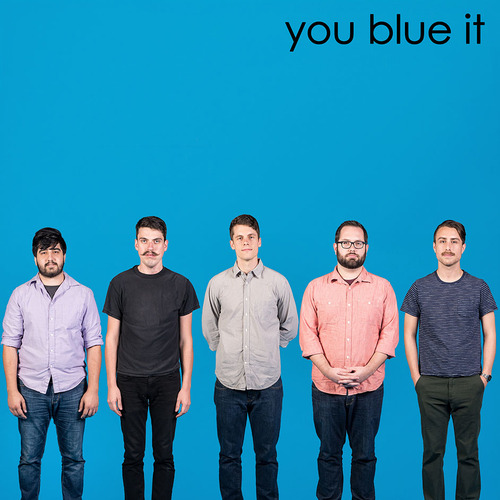 Weezer's self-titled 1994 release needs no real introduction. Nicknamed 'The Blue Album', it's responsible for sparking the careers of hundred bands, You Blew It! included. So it seems fitting that during the 20th anniversary of the album's release that You Blew It! chose to release a covers EP of songs from that iconic album.
Of course it can be a tough challenge to cover such well known songs, so You Blew It! have played it safe. There's no 'Buddy Holly' or 'Sweater Song' here, instead they've stuck to album tracks 'Surf Wax America', 'In the Garage', 'Only in Dreams', 'My Name is Jonas' and a B-Side, 'Suzanne'.
The songs are more or less straight covers but with subtle differences, such as the lack of the acoustic guitar solo in 'My Name is Jonas' and a few light key changes.  Vocally, Tanner Jones has elements of Rivers about him, and this gives 'You Blue It' a familiar feel, like listening to 'The Blue Album' through distortion.  It's hard to reinvent a solidly good album, so You Blew It! don't even try, simply choosing to pay tribute to these great songs.
Out of the five songs covered, a stripped down, laid-back 'Suzanne' and a slightly reworked 'My Name as Jonas' stand out as highlights.  'My Name is Jonas' is probably the most familiar of the songs covered here, and even for those with only a passing knowledge of Weezer, the covers still work as standalone tracks.
Enjoyable for both Weezer and You Blew It! fans, while this brings nothing new to this set of songs, 'You Blue It' is a nice tribute piece and does each version justice – undoubtedly a worthy addition to anyone who has ever sung along to a Weezer song.
4/5
'You Blue It' by You Blew It! is out now on Topshelf Records.
You Blew It! links: Facebook|Twitter|Bandcamp
Words by Jay Sullivan