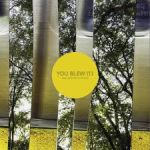 Following an undoubtedly impressive 2013, which included releases from Crash Of Rhinos, Into It. Over It and TWIABP amongst others, Topshelf Records here mark the turn of the year by releasing the sophomore effort of Floridian quintet You Blew It!, a band hoping to join the aforementioned illustrious names in the upper echelons of the emo "don't call it a revival" revival. They certainly boast a line of influence enough to make any twinkle daddy dewy-eyed, calling upon elements of American Football, Cap'n Jazz and Braid in their urgent, rough-edged melodies. However, YBI! have heeded the advice of their previous full-length (entitled 'Grow Up, Dude') and sought a noticeably cleaner sound for this record, and aided by Evan Weiss of the aforementioned IIOI, have succeeded in bringing out a more mature, well-rounded side of themselves.
The cleverly-named 'Match and Tinder' is definitely one you'll be swiping to the right into the "like" section – bombastic riffs trailblaze throughout this number and a wave of nostalgia washes over you like getting into a warm bath drawn by the Kinsella Brothers. Following on from the excellent curtain-opener, the spikiness of Tanner Jones' lyrics ("You can always consider me a friend, but strictly in the past tense") on 'Award Of The Year Award' are conveyed by his soaring rasp – the move to a cleaner vocal approach on album number two is a notable improvement, as it suits the more full-bodied instrumentation present on 'Keep Doing What You're Doing'.
However, as formidable as the opening gambit is, the record really takes flight on the stunning 'House Address', a song where all the band's attributes come to the fore; irresistible drumming and a driving bassline underlay gently swelling, intricate guitar parts, leading into a gorgeous coda that could make Jimmy Eat World seethe with jealousy. This centrepiece ushers in the second half of the record, which is filled with just as many delights as the first, the fist-pumping 'Rock Island' chief among those – though the subject material of 'Grey Matter', concerning someone who could stand to engage their brain before their mouth, also makes for entertaining thoroughfare.
The band save one of the best until last – the belting 'Better To Best' is the truest representation yet of this scaled-back incarnation of YBI! – while their old stuff was undoubtedly addictive in its urgency, this more melodic and expansive approach to songwriting allows for a more textured, structured finesse that pushes the Orlandoans to the gold standard fanboys have come to expect from their prestigious label. Vocalist Tanner Jones parts with "Maybe things aren't quite as bad as I let myself believe", but following a record of this fortitude, he can afford a little more than cautious optimism. Whatever you care to call the current crop of emotive bands of similar ilk, the scene looks to be in safe hands going into 2014.
4/5
'Keep Doing What You're Doing' by You Blew It! is available on the 14th February on Topshelf Records.
You Blew It! links: Facebook|Twitter|Website
Words by Ollie Connors (@olliexcore)