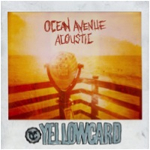 Another ten year anniversary brings us yet another tie-in release. This month it's violin-infused pop punk band Yellowcard, who to celebrate a decade since their breakout single and album 'Ocean Avenue' first hit the charts, have reinvented the release acoustically.
The album itself is perfectly perfunctory, recreating the original album (including violin) by-the-numbers with no added thrills or extras.  The main point to consider is, is there any need for an acoustic version of 'Ocean Avenue'? I don't really think so, and as a result it smacks a little of record label cash in.
The songs themselves haven't dated, still sounding as vibrant ten years ago. In fact the new versions of 'Way Away' and 'Breathing' sound virtually the same, however the still relentlessly popular 'Ocean Avenue' loses some of the urgency and catchiness when played acoustically.
It's a mixed bag, some songs benefit from their new acoustic setting, many sound virtually identical and a few flounder. 'Twenty Three' is a highlight, slowing down but still retaining its sing-a-long factor, 'A View From Heaven''s intro is improved, sounding slightly less like a frantic barn dance and drawing more attention to the song's lyrics. 'Life Of A Salesman' however becomes unlistenable, with the endless repetition of "dad" in the verses becoming ear-bleedingly irritating.  
Overall while there's nothing really wrong with this album, there's just no need for it. It doesn't capture the essence of what made the album great originally (like Taking Back Sunday's 'TAYF10') and it fails to reinvent the songs in a new way (like Alkaline Trio's 'Damnesia'). Unless you're a diehard Yellowcard fan and can't live without this, there isn't any burning reason to add this to your collection.
2/5
'Ocean Avenue Acoustic' by Yellowcard is released on 16th August on Hopeless Records.
Yellowcard links: Website|Facebook|Twitter
Words by Jay Sullivan