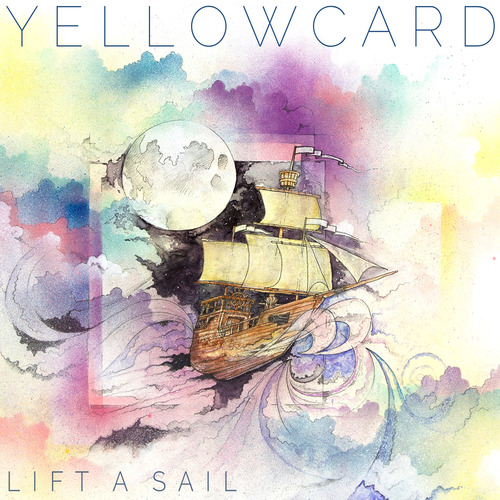 Since their return from hiatus in 2010, emotive pop-punks Yellowcard have enjoyed one of the most productive periods of their career, releasing two very successful original albums and two acoustic re-workings. But all that looked like it could be under threat when several members went through the sorts of challenges and misfortune in their personal lives that would have signalled the end of many a lesser band. But even after the loss of drummer and founder member Longineau Parsons III earlier this year, the now four piece refused to admit defeat, drafting in temporary sticksman Nate Young, formerly of Anberlin, and heading into the studio to create arguably their most difficult and highly anticipated record to date. To say that the results of that work, new album 'Lift A Sail' out this week is remarkable, is only the start of the story.
From the outset it's clear that Yellowcard have drastically upped the scale and ambition of their musical outpouring. The majestic sweeping strings of instrumental opener 'Convocation' immediately brings to mind the grandiose score to any Celtic tinged Hollywood blockbuster and provides a stirring taster for the emotional wringer that is to follow.
After a brief pause a dramatic drum intro followed by a stratospheric guitar riff that any arena metal act would be envious of launches 'Transmission Home' into life, instantly resetting every possible preconception of what Ryan Key and co can achieve with their song writing and sonic soundscapes. To say that this song is epic on countless different levels really doesn't do it justice. This may still be the Yellowcard we all know and love but its bigger, bolder and refusing to exist under any limitations of the admittedly rather special work that has gone before.
Make sure you bare this in mind as 'Crash The Gates' pushes things to even greater heights, swirling electronics, keys and exquisite string work from Mackin combine with a thunderous, presence filled performance from drummer Young on an endlessly uplifting assault on the listener's consciousness.
It's back to slightly more familiar territory on poppy guitar driven love anthem 'Make Me So' which is highlighted by one of Key's trademark unforgettable and inescapable chorus hooks. Throw in some interesting, distinctly Angels and Airwaves style electronic wanderings courtesy of Young and more storming guitar work from Mendez, who puts in one of the studio performances of his career throughout the album, and you have a new classic Yellowcard track.
Next up we have the now obligatory Yellowcard catchy, hugely effecting take on the love soaked ballad. Virtuoso performances from Key and Mendez star on a track which combines the best elements of older YC songs 'You and Me and One Spotlight' and 'Hang You Up' only with added killer guitar solos and a movingly sentimental lyrical exploration of the power of a strong relationship to overcome the most trying and soul destroying circumstances.
This theme continues on 'Fragile and Dear' complete with further intricate electronic riffs and some unexpected yet effective use of vocal effects, whilst 'Illuminate' looks at the triumph and joy that follows over coming these dire adversities.
The minimalist musical arrangements of both 'Madrid' and 'MSK' give Ryan Key the space to give two of his finest vocal performances ebbing, flowing and laden with the emotions of life, love, despair and everything in between. In contrast 'The Deepest Well' sees YC at their all-out Rock best on the heaviest song they have made in quite some time.
Title track 'Lift A Sail' is a slice of vintage Yellowcard sticking largely to the traditional violin guitar play off on a song which lyrically prepares to move defiantly to the future unbroken by what has happened in the past.
As the record starts to draw to a close, 'My Mountain' sees Key pay a moving yet fittingly up-tempo and life affirming tribute to his deceased Grandfather, the man who long-time fans will remember providing a desperately sweet voice over on the track 'Dear Bobbie'. This just leaves 'California' to end 'Lift A Sail' on a suitably poignant high.
'Lift A Sail' will go down as one of Yellowcard's very finest records, showing that even a multitude of albums deep into a stellar career it's never too late to change and evolve your sound into something truly spellbinding to such an extent that it eclipses the remarkable back catalogue already released. 'Lift A Sail' taps into literally the most effecting aspects of the human and condition and presents them in such a way that it leaves no doubt that anything can be overcome.
5/5
'Lift A Sail' by Yellowcard is out now on Razor & Tie.
Yellowcard links: Website|Facebook|Twitter
Words by Dane Wright (@MrDaneWright)