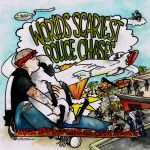 Back in the day, AF Records was one of my go to places for great new music. Almost every band that showed up there had at least one record that I loved. Then AF office flooded, and the label went into hiding for nine years. Now, as if by some sort of punk rock magic, it's back and it's releasing records by bands like Worlds Scariest Police Chases. It's as if the label never went away.
Throughout 'NOFX… And Out Come The Wolves Dookie', Worlds Scariest Police Chases (seriously, I'm not sure if the band or the record has a stupider, more wonderful name) wear their influences on their sleeves. Or, as with the Good Clean Fun homage in 'You're Only Punk Once', they just outright offer these influences on a platter to be enjoyed. It's just good old, no frills, fun punk. Just like Mamma used to make. Had Mamma ever been in a positive hardcore band at some point.
Every track's a classic – a term I must acknowledge that I use both loosely and with absolute certainty. Opening track, 'Blacking In', gives away almost everything: "La di da di we like to party" / "Fuck the Man. Fuck them Man. Fuck the Man." Fun is good and the man is bad, now for some songs about cops and selling out.
But, for every great song that has a (semi) serious message, that takes a swipe at everything you hate and, just incase you thought you were getting off easy, everything you love, there's one song that tops them all. The only song with a title as miraculously stupid as Worlds Scariest Police Chases and 'NOFX… And Out Come The Wolves Dookie' – 'Gay Jesus For President'. The standout track as far as I'm concerned. A track I've listened to over and over again since I first heard it. A track with gems such as "What if God was gay? You'd look like the ass he takes it in."
Once you've typed out a sentence like the above, what else is there to say? Lyrically Worlds Scariest Police Chases are incredible and the music totally holds up. In the grand scheme of things there aren't many albums like this one and I'm sort of glad. Life would be too much fun if there were.
4.5/5
'NOFX… And Out Come The Wolves Dookie' by Worlds Scariest Police Chases is out now on A-F Records
Worlds Scariest Police Chases links: Facebook| Twitter| Tumblr
Words by Thomas Knott (@nounandthenouns)