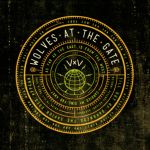 This week, the album of choice is post-hardcore outfit Wolves At The Gate with their latest 'sophomore' effort, 'VxV'. The band from across the sea in Ohio stepped in to the studio with Will Putney (For Today, Chiodos, Like Moths to Flames) to create what is a well-polished, enjoyable album.
The album opens with spoken word, frequently repeating 'five by five', both the track and albums namesake 'VxV'. This completely gives way to strong vocals, powerful drums, heavy guitars and crisp melodies. The sweeping chorus is consistent with the rest of the song and we are introduced to the combination of Steve Cobucci and Nick Detty's complimenting vocals. The song is slowly closed by spoken vocals focusing on 'past, present and future'.
The album highlight for me was 'Relief', featuring later in the album. The track opens with dual spoken words between both a male and female voice. This perfectly juxtaposes the lengthy cries signalled by the changing drum signature. This is then matched back and forth gang vocals before gaining pace and layers. The song goes through a second period where it is quickly brought down to a rolling drum beat and more spoken vocals, which gives the song multiple levels keeping it interesting as a listener and making the louder and heavier parts all the more powerful.
The last track, 'The Father's Bargain', follows suite with the rest of the album with the beginning of spoken vocals. This time it is accompanied with the sounds of rain and is begun with soft vocals and palm muted guitar; quite a different approach. However, I was to be proven wrong as it erupted completely with screaming vocals and massive guitars. It continues this a few times throughout the song before ending upon a surprisingly upbeat chord progression.
Well, I'm coming to the end of my review and I have purposefully avoided a key theme that runs throughout the band and this album; they are a Christian band. The whole album is dedicated to Christianity and the gospel. The name itself, Wolves at the Gate, is taken from the bible. However, I left this out because I think people can be too quick to judge the assumed preachy vocals. Upon first listen I did not realise they were a Christian band, I just thought the lyrics were rather unusual. Although some may be put off by the message, the album is a highly enjoyable one for its quality. The passion they feel for their religion is clearly felt throughout the album.
3.5/5
'VxV' by Wolves At The Gate is out now Solid State Records.
Wolves At The Gate links: Website|Facebook|Twitter
Words by George Isaacs (@TryGeorgeIsaacs)