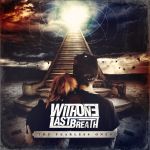 Having built up a veritable who's who of former tour mates from the cream of British and International metal, and played Download all before releasing their debut album, Yorkshire's With One Last Breath look set to finally be considered major players in their own right with hugely accomplished first long player 'The Fearless Ones'.
The album title is certainly an apt one. 'TFO' brims with confidence and self-belief, and see's the band come out all guns blazing from start to finish. Capturing just the right blend of brash, energetic passion and melodic awareness that a metal act hoping for major success needs to achieve, With One Last Breath have clearly learnt plenty from spending time on the road with such esteemed company.
It's not hard to see this offering earning With One Last Breath favourable comparisons to a host of big names. At its highest points. 'TFO' even shows that With One Last Breath have the potential to produce the sort of killer choruses of all conquering arena metal acts like Bullet For My Valentine.
Vocally Sam Graves strikes a well-judged balance between clean and throat shredding deliveries, and pulls off both with aplomb. Many of the lyrical refrains seem to have been written with audience interaction at live shows in mind, and there are definitely plenty of moments which should provide some rousing sing-alongs. Indeed the whole album will likely provide the basis for some cracking future gigs.
'The Fearless Ones' hits all the right notes for a debut release, showcasing some killer tracks and providing the sort of infectious levels of energy, excitement and passion that makes With One Last Breath a band to keep an eye out for on the road in the coming months.
3.5/5
'The Fearless Ones' by With One Last Breath is out now on Small Town Records.

With One Last Breath links: Facebook|Twitter
Words by Dane Wright (@MrDaneWright)