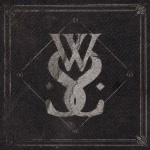 I'm pretty sure I won't be the only person reviewing this album who will instantly think about comparing While She Sleeps to fellow Steel City metallers Bring Me The Horizon. They're both heavy and from Sheffield. The main comparison though is surely the hype. While She Sleeps have built up a heck of a lot of hype preceding the release of debut album 'This Is The Six'and it's clear to see why.
A bold statement on british music as any; Opener 'Dead Behind The Eyes' is a clear enough reason as to why While She Sleeps are one of the heaviest bands within the UK metal scene, bolstering enough balls to take on the world. The lead guitar melodies that drag them over to the melodic metalcore side of things slice through on 'False Freedom,' 'Seven Hills' and 'Our Courage, Our Cancer,' and it's such a brilliant embarkment. I mean, why can't heavy have melody? It sure can and While She Sleeps have certainly nailed it on the head. Expect many imitations over the next few years.
The ferocity lies through each song and emotion is seeped into this album more than you'd expect. Lyrical references to the first EP 'The North Stands For Nothing' showcase an intelligence and homegrown loyalty that the lads will never forget who they are or where they've come from. These references create unity between their two releases and I'm sure they'll carry this on in the future, creating a community based within their art that the world can latch onto and associate with. 
It's certainly a craft that While She Sleeps have. There's a beauty amongst it even though this is a metal album. The piano trinkets are installed within tracks, prime examples being 'Love At War'  and 'Reunite' whereas track 'The Chapel'  is a standalone track that showcases a slower paced side, with the melodies still there and in full force to solidify it as a While She Sleeps track. If you're up for metal full of rage though then don't let this put you off. I mean, the intro to 'Until The Death' sounds like the kind of synced riff and drum beat that would make Meshuggah weep. 
Here's my summary; believe the hype. Really, just believe it. Take a listen wherever you can. If you're after metal then this should be right up your street. For a debut it's mightily impressive and it'll be more than interesting to see how While She Sleeps up their game for album number 2. However, for now, realise that this is probably one of the best heavy albums that you will hear this year. While She Sleeps are going to be one of the biggest metal bands this country has to offer, and that's where the real comparison with Bring Me The Horizon lies.
5/5
'This Is The Six' by While She Sleeps is out now on Search And Destroy.
While She Sleeps links: Website|Facebook|Twitter|Tumblr
Words by Mikey Brown (@MikeyMiracle)