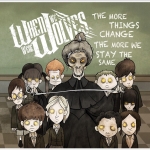 Just over a year old, South Wales' When We Were Wolves already carry rather impressive accolades. Despite only forming in July 2011, the quintet has put their raw, visceral talent to excellent use, bagging support slots alongside bands such as Bury Tomorrow, Exit Ten, Despite My Deepest Fear and Carcer City. And the pretty damn amazing thing? They've done all that, but have yet to release an EP – which is in the form of soon-to-be released 'The More Things Change, The More We Stay the Same'.
Ambience is first experienced upon listening to 'All Good People Must Come to An End' before Mitch Bock's low growls overlap, adding grit and bite to an otherwise almost calm and sedated opening track. Tracks such as 'Under the Water' and 'This Is Where We Belong' showcase fine talent – hearty slabs of shredding riffs are coupled with guttural screams and neat, precise clean-cut vocals, creating explosive tracks. Demonic drumming shakes the foundations of 'Your Sick Fantasy', and closing track 'Hounds', featuring Phil Cross, is a monster of an anthem. Roaring cries of, "These are the words you should have kept" and mighty riffs combine to create a stunning closing track.
Don't forget to pick up your copy of 'The More Things Change, The More We Stay the Same' when it comes out. A killer EP from a killer band, it's only a matter of time before these five wolves come hunting for you.
4/5
'The More Things Change, The More We Stay the Same' by When We Were Wolves will be released on 14th January 2013.
When We Were Wolves links: Facebook|Twitter|YouTube|BigCartel
Words by Jess Tagliani (@JessTagliani)