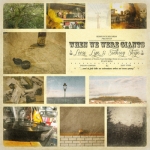 Greg Simpson and Kane Storr are the Homesick Records-signed duo, When We Were Giants – a pair of talented Lincolnshire lads who first appeared on the scene last year, with their début album 'Eyes Wide and Kneeling'. It was a great start for the pair, whose take on the pop punk sound showed a talent for lyrically rich layered melodies. Although, they seemed to be attempting to neutralise their accents somewhat and to mimic that typical American post-grunge alt rock sound…you know the one – that Green Day-style chord progression used by countless bands including Set Your Goals and New Found Glory. Not that there is anything wrong with that, but I am much more impressed by what When We Were Giants have done with album two – 'Loose Lips & Sinking Ships.' All pretense has been ditched and the guys have embraced their heritage to produce an interesting and unusual concept album, right down to the album art, which includes images that could have been plucked from the memory of any 80's child from that neck of the woods.
'Loose Lips & Sinking Ships', is an uplifting and well-produced album summarised well by the sub-header; "A Collection of Stories from Nostalgic Minds & Long Lost Friends". It's very likable and characterised by syncopated melodies and time signature play that leaves the layers and sequences tripping over themselves in an ambling nostalgic daydream. It's a fairly distinctive sound but I would liken the style to that of Into It. Over It., which is surely a huge compliment to any band.
<a href="http://whenweweregiants.bandcamp.com/album/loose-lips-sinking-ships" data-mce-href="http://whenweweregiants.bandcamp.com/album/loose-lips-sinking-ships">Loose Lips &amp; Sinking Ships by When We Were Giants</a>
The 11 tracks are very well-rounded, offering plenty of variance to keep the ear awake while maintaining the overall concept and character throughout. Track one is the well-named 'Goodbye to the Ground' – a short mood-setting intro. Personal favourites include the pie-eyed and eager 'To A Lover, To A Friend'; the instantly lovable 'Stay', with it's awesomely catchy chorus of "I was just trying to find the room to breath and so were you. But I hope one day we'll meet in the middle at least", which I've had stuck in my head since my first listen; and 'Eighty Weeks Or Minutes Or Days As Years', with it's more restrained vocals and rippling guitar.
You can't help but get caught up with their honest lyrics and anthem-like choruses. It is clear that they've put a lot of work in to produce something of such a good standard and the track, 'There's No Mountains In This Neighbourhood But The View From This Roof Ain't Bad', tells us something about that battle from dreams and practising ("Yeah yeah, we'll get there somehow, even if it takes forever") to having accomplished so much while still awaiting real success ("So please don't bury me alone beneath this wood I've borrowed"). That's another great track but none on this album fall short of the mark.
'Loose Lips & Sinking Ships' is all the more impressive for the fact that they've managed it all independently. It's a great album and one to listen to anywhere and at any time, as it cleverly puts you in in a particular mood or frame of mind rather than feeds one. This is well worth a listen and even a purchase when the price is whatever you're prepared to pay for it.
3.5/5
'Loose Lips & Sinking Ships' by When We Were Giants is available now on Homesick Records.
When We Were Giants links: Facebook|Bandcamp
Words by Lisa Gilbride.