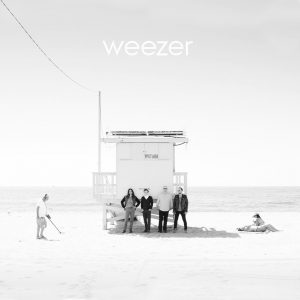 Ah, Weezer. They're a band whose output in recent years have split opinions. With a tendency to churn out a hit single or two amongst a barrage of ineffective material has left some questioning Weezer's legacy, whilst others are left consistently yearning for a return to their '90s peak.
Album number ten (and their fourth eponymous) 'The White Album' sees a band with a purpose, with a unified set of songs that sound at home amongst the sun-drenched West Coast setting they call home. Early cuts 'California Kids' and 'Wind In Our Sail' quickly remind you of Rivers Cuomo and company's power-pop prowess; upbeat, hook-y and careless. There's a blissful and playful quality to what's on offer. Likewise, recent single 'King of the World' sounds like your favourable Weezer single. 'Thank God for Girls' carries itself with a blatant pop pride albeit Cuomo's "rapping" stream-of-consciousness.
Elsewhere, '(Girl We Got a) Good Thing' channels the bouncy spirit of The Beach Boys' Brian Wilson with its jaunty piano. 'Do You Wanna Go High?' serves as a highlight for its 'Pinkerton'-esque delivery; screeching, feedback guitars and slacker lifestyle lyricism. Similarly 'L.A. Girlz' wouldn't be out of place on 'The Blue Album'.
So does 'The White Album' see Weezer back at their best? I'd say yes, it's certainly their most consistent effort in years. It sees a band knowing what longtime fans want. There is a sense of familiarity at its core; upbeat, somewhat unorthodox and infectious.
Admittedly it doesn't hit the significant standards of 'Blue' and 'Pinkerton', but in an ever-growing catalogue 'White' deserves to be held in high regard. For all their past misgivings, 'White' highlights Weezer's strengths from start to finish. If 'Everything Will Be Alright in the End' saw Weezer back on the right track, 'The White Album' finds them with renewed confidence that flourishes.
4/5
'Weezer (White Album)' by Weezer is released on April 1st through Crush Music.
Weezer links: Website | Facebook | Twitter | Tumblr | Instagram | YouTube
Words by Sêan Reid (@SeanReid86)