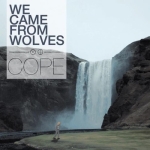 WeCameFromWolves are a four piece post-rock band from Perth, Scotland. 'Cope' is their début EP, released on Engineer records and speaks of a band with limitless potential, youthful energy and a bright future ahead. Immediate comparisons will be drawn to fellow Scottish compatriots The Xcerts or even the stadium-sized Biffy Clyro but this band is more than just another alternative rock band with a funny accent.
The EP opens with title track, 'Cope.' From the outset it is a cacophony of catchy lyrics and melodic, early-Tellison style hooks. Grooving and poppy, but with a razor-sharp edge, it is a bitter pill wrapped in a sugary sweet outer layer. This sets the tone for the rest of the EP.
<a href="http://wecamefromwolves.bandcamp.com/album/cope" data-mce-href="http://wecamefromwolves.bandcamp.com/album/cope">COPE by WECAMEFROMWOLVES</a>
Next up is 'Crosses,' a more brooding affair, sharper and more intense in its' focus, calling to mind Brand New. Intricate guitar melodies mix with a desperate and passionate vocal to create a truly mesmerising track, something of jaw-dropping quality for a band so young in their career.
'Blood' is the third track on the EP, and the track with the most out-and-out catchy chorus. It is by far the strongest track on the EP, with hints of Taking Back Sunday's anthem-sized hooks and emotional lyrics. This is extremely powerful and compelling song writing, and 'Tidals' is another example of this, as it washes over and beguiles.
Closing the EP is 'For All Our Sins, We're Golden,' which does not constitute a dip in intensity at all and includes the simply delicious couplet "oh honey bee, you're killing me." This is a full and complete EP with no filler tracks on. It is hard to distinguish a favourite because it is just such a consistently brilliant EP.
There is a lyrical and musical urgency to this EP that speaks of a band more mature than these young Scots are. I can speak only in the highest esteem of WeCameFromWolves, and although they should figure out where the space bar is on their keyboards, they surely are destined to gain a lot more exposure and success in the near future. 'Cope' is an absolutely essential bit of listening from a band that will undoubtedly explode in the near future.
4/5
'Cope' EP by WeCameFromWolves is available now on Engineer Records.
WeCameFromWolves links: Facebook|Twitter|Bandcamp
Words by Tom White (@whiteywitters)