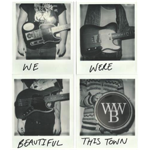 We Were Beautiful are a four piece alternative rock band from Liverpool. This quartet has already supported top bands such as Deaf Havana and Lower Than Atlantis; now they are showcasing their skills to the UK with the release of 'This Town'.
The EP begins with the title track 'This Town', an energetic fast-paced rocky hit with outstanding guitar riffs and a heavy beat. The track is graced by the beautiful vocals from lead singer Paul Easton, and the lyrics are cunningly catchy you truly can't help yourself but sing along.
This follows with 'The Wolves' a darker indie track with a deep base, captivating melody and an awesome intense rock chorus. The song is teeming with pure raw emotion and passion, which creates something truly spectacular. We Were Beautiful are clearly a talented bunch with a real love and flair for the music they have created.
'Death Do Us Part' is an upbeat catchy pop-punk tune, with a tremendous melody and an extremely captivating chorus. The lyrics fall off your tongue, and the electrifying guitar riffs and outstanding melody will have you up and dancing.
The EP finishes on 'Jealousy' an emotional rock track, with a fantastic heavy chorus, stunning vocals, and exceptional instrumental work on the drums, guitar and bass. This electrifying rocky beguiling song is an absolute smash hit.
We Were Beautiful are a talented gang who love what they do. The band has managed to create a terrific EP, with every track showcasing a different style of the alternative music scene. The tracks expertly combine rock, pop-punk, and indie styles, which are pulled together with amazing vocals, melodies, and instrumentals. 'This Town' is highly recommended to any alternative music fans, We Were Beautiful are the band to keep your peepers watching!
5/5
'This Town' by We Were Beautiful is out now.
We Were Beautiful links: |Facebook|Twitter|Bandcamp
Words by Chantelle Kelly