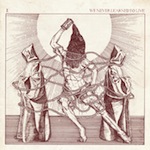 Brighton's never a city to keep quiet, given the choice. Musically, it's one of the United Kingdom's most hectic and vibrant hubs; delivering the likes of Nordic Giants, The Ghost of a Thousand and Architects amongst reams of other contenders to various musical thrones. Recently, however, there's been a sense that the city has lacked that little something more visceral. Right on cue, then, is the arrival of We Never Learned to Live. The quintet are for all intents and purposes a fledgling band, and their self-titled EP is the first release to surface thus far, and despite being just three tracks in length, it offers up almost twenty-five minutes worth of backing to the claim that this particular five-piece may well have a place on ice amongst the Brighton musical elite.
Opening track 'Afloat' takes a tentative start, a muscle-flexing of sorts as the band eases into the EP. The floodgates open around eighty seconds in, however, and when the band let loose they aim right for the jugular. Sean Mahon's vocals are raw and strained amongst a haze of post-rock instrumental backing, and in a similar fashion to how some songs can be described as "Jekyll and Hyde tracks", 'Afloat' is more a case of Jekyll and Bigger Jekyll. Though the band ease off the throttle at some points, the piece is very much an introduction to a band with intensity as a number one priority. The end result is an effort that sits somewhere in between Bastions and early Deftones on the sliding scale of musical explosiveness.
<a href="http://weneverlearnedtolive.bandcamp.com/album/we-never-learned-to-live" data-mce-href="http://weneverlearnedtolive.bandcamp.com/album/we-never-learned-to-live">We Never Learned To Live by We Never Learned To Live</a>
The opener leads right into 'Crow's Feet', with the quintet again taking the approach that a slower build is better; another drip-fed introduction that quickly drops the hammer as the minute mark passes. Screamed vocals over post-rock instrumentals always risk sounding a little out of place, leading to an end product that tries to be far too many things at once. We Never Learned to Live, to their credit, are victims to no such pitfalls. The crescendos of guitars and drums are a perfect match for Mahon's lungs, and in each instrumental ebb and flow, the lyrical explosions remain undeterred. There's plenty to stop the band becoming boring but not so much that their sound is overloaded, and We Never Learned to Live have on their first attempt conjured up a more balanced release that many bands can manage after years of work.
The third and final track is 'Kepler', and talk about saving the best for last. Just shy of ten minutes in length, the closing piece is a thunderous outburst, a multi-headed beast that keeps coming back time after time for more. Despite the length, 'Kepler' stays engaging to the end as a progressive, meteoric journey. A piano outro seems to juxtapose everything that came before it on the record, and hints that even with what the self-titled EP has produced, there may very well be a lot more to the Brighton quintet. There is certainly, however, a hell of a lot of reasons to bet highly on their future. The five-piece are looking every bit like the kind of band that can step up to the plate in a big way, but in many ways you could argue that process has already started.
5/5
'We Never Learned to Live' by We Never Learned to Live is out now via Hourglass Records.
We Never Learned to Live links: Facebook|Twitter|Bandcamp
Words by Antony Lusmore (@Metacosmica)