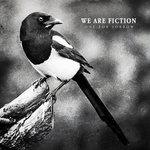 Some bands are haunted by the spectre of post-hardcore's most pervasive tendencies: a crippling fear of being either too heavy or too poppy. In this fierce internal struggle for street credibility, many bands ultimately resort compromise, that vile stifler of creative progress. Unfortunately, Peterborough quintet We Are Fiction fall victim to this sweeping infection. They are, however, much more willing to shake things up than many a lesser band. That's not to say that they've set their sights on breaking any moulds, but instead seem fully intent on covering the entire palette of songwriting possibilities available within them. For the most part, that youthful enthusiasm for genre exploration is ultimately their salvation on debut album 'One For Sorrow'.
Looking for a relentless barrage of sexy hooks, catchy choruses? Does a combination of raspy screams and squeaky clean pipes make your metaphorical pants drop? Enjoy the odd breakdown (emphasis on odd; invisible emphasis on 'actually not as cliché as those murder-inducing copy-paste 0-0-0-0-0-0-0 breakdowns')? Look no further! We Are Fiction provide the goods, and they've even taken the time – so often wasted on breakdowns I expect– into the arrangements. The record is the better for it for even when it falters a little, you're at least guaranteed not to fall into patterns of repetition, which in turn gives the listener less incentive to turn it off.

If they don't, they'll be treated to an enjoyable ride through post-hardcore history. Opener 'Mansion House' (and the record's cover art for that matter) is reminiscent of the later, more mature, Alexisonfire. This is sure to piss them off, but 'My Dreams Are Haunted' mixes the above-mentioned band's indescribable raw-yet-honed quality with the emotional potency of a less cheesy Mayday Parade, particularly in those powerful soaring sections. First real standout 'Sail On' is a real barnstormer. Rather than sitting somewhere in the middle, the band take a leaf out of their main influence's book and properly bring down the house when they mean to be heavy and are resolutely charming when they mean to be melodic. Its finale was meant to be passionately yelled back at them by mobs of beanie wearing fans.
They perhaps try a tad too hard to consistently distinguish themselves with variety on 'Tilt', which features both some of their better moments (the 'despair!' gang-vocals are absolutely delicious) as well as the bewildering presence of an unnamed rapper. It's not a bad thing featuring either, but there's a sense that cohesion has been sacrificed for a little novelty. In any case, it only further proves that there are surprises, pleasant ones more often than not, at every turn. This reviewer was personally sold at the opening of 'Worst Of It' which is either a hommage to Reuben's 'Song For Saturday', a teeny rip-off, or the realization of the 'great minds think alike' dictum, but is most definitely the best way to get his juices pumping. We Are Fiction's debut most likely has some of those moments for everyone. Keep 'em coming.
4/5
'One For Sorrow' by We Are Fiction is out now on Destroy Everything Records.
We Are Fiction links: Facebook Bandcamp Twitter
Words by James Berclaz-Lewis (@swissbearclaw)