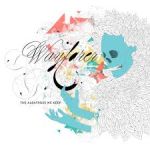 It's a pretty well trodden path, familiar to plenty music fans. A guy or girl is in a punk rock band, and as part of that, rails against responsibility and the problems in life and society. Suddenly, he or she finds themselves bogged down in those very problems, with no idea how they even even got there. So, they start writing about it and make it into a more acoustic friendly reflective format. Some of these experiments don't seem to work out, mostly because its actually hard to transition from punk rock to an acoustic singer sound, especially if your singing isn't up to scratch. Thankfully, this isn't the case for Nik Piscitello, aka Wayfarer, who can not only sing, but can write eloquently about growing up and what that means.
'The Albatross You Keep' is a five track EP that covers a range of the issues that keep Piscitello up at night, and his voice has a lovely quality to it. At points in 'Oh and On' he sounds rather like post whiskey town Ryan Adams. Throughout I can also hear of shades of Dustin Kensrue, amongst others, in his choice of vocal sound and instrumental backing. He's got power in his voice when he wants to use it but can scale it back for quieter tracks like 'Never Be' – which considers a relationship that couldn't go the distance. I really like the fact that this feels like more of a country rock record, than trying to just be a rock record without the distortion. It's not over ambitious, but tracks like 'Skeletons' really don't need much more than the lovely fingerpicked guitar part and simple drums to make an impression. 'Best and Worst', a highlight on the EP, starts as a simple rocky guitar melody and ends with a brilliant electric guitars and drums buildup then breakdown with Piscitello screaming "Hello my broken heart, where've you been?". You can feel some empathy with his frustration as it comes gushing out.
As that final track 'Best and Worst' comes to its chacophonic climax, you can tell this was a much needed release. It's a melancholic but enjoyable set of tracks, which run from considering dealing with the humdrum of growing older, to lost loves and enjoying the present. it's maybe not the most upbeat of records, but the tracks speak for themselves well and its a lovely coherent record about getting over those things that let you feel down. Hopefully there'll be more to enjoy.
4/5
'The Albatross You Keep' by Wayfarer is released on the 18th February.
Wayfarer links:Facebook |Twitter|Bandcamp
Words by Heather Robertson (@thecuriosity)