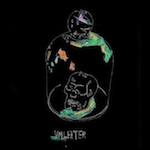 We've been fans of Leeds' Walleater for quite some time now here at Already Heard, so you'll probably guess we'll be giving their new self-titled effort a glowing review right? Well nearly.
Don't get me wrong, 'Walleater' certainly backs up any hype or momentum the quartet have. Throughout the band's use of effect pedals giveaway to a sonic-sized soundscapes that are throughly pleasing. Opening track 'Give In To Me' is downtrodden in its delivery with a synth-like chorus giving the track resonance.
Next up is 'Just A Boy' with its shimmering guitar chords that compliment Rob Dell's droning vocals. It's a cold yet compelling sound that leaves you hooked and gives you an impression of how versatile Walleater can be.
The second half of this four-track release sees the band take on a more shoe gaze approach. 'Glow' is an intense, smouldering instrumental piece that flares up with emotion that defines the bands raw, cinematic-esque sound.
'What Do You Know?' closes the EP and is somewhat calmer than the other tracks found on here. Breezy guitars and vocals are treated delicately and are allowed to equally shine, before giving way to radiant, pounding drums and power chords.
Admittedly the band's mix of shoegaze, emo, grunge and alt-rock may not be for everyone on first listen. At times, the band come across as too downbeat and listeners may struggle to connect or understand Walleater's direction.
However, underneath the band's seemingly cold sound, there is a band that has substance and potency. Walleater's keenness for an expansive sound is admirable and effective yet the 4 songs on here, to an extent, lack cohesiveness.
Walleater need to find their true sound, but this self-titled effort is a good starting point as it offers, for both the band and fans, an idea of what potential Walleater has.
3.5/5
'Walleater' by Walleater is out now Close To Home Records.
Walleater links: Facebook|Twitter|Bandcamp
Words by Sean Reid (@SeanReid86)