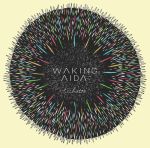 Sometimes you let your expectations get too high, and this is something I had this week when it came to reviewing the debut record from Southampton's Waking Aida. On paper, 'Eschaton' sounds highly promising with the likes of Explosions In The Sky being cited as influences and Maybeshewill's Jamie Ward handling recording duties, yet unfortunately it's not quite what I had hoped for.
Don't get me wrong, there are moments that shine throughout this 50 minute instrumental record. The twiddly, jangly guitars on 'How To Build A Space Station' come off as pleasant and compliment the band's subtle atmospheric tone.
Whilst throughout there is an underlying groove from the band's bass and percussion department that gives 'Eschaton' some form of consistency. Something which is certainly required considering it's length.
Yet the downfall of 'Eschaton' is its inability to truly grab you and leave you compelled, something that their post-rock pioneers (Explosions In The Sky, Mogwai) have continued to do so. However, the mid-section of 'Incandenza', and tracks like 'Glow Coin' and 'Matted Fur', show potential to do this, but ultimately Waking Aida never quite pull it off.
One strong point of 'Eschaton' is the band's musicianship. Throughout, the quartet allow each other to shine, from the twinkling guitars, to absorbing drum patterns to the groove-filled basslines. They all play off each other well with great effect, yet during the later stages of the record, it's clear the band are running out of structural ideas.
On the whole 'Eschaton' requires you to have patience. It's a lengthy, challenging record that hints at potential brilliance throughout, yet it ultimately it leaves you disappointed. I had hoped for a record that floored me and had me hooked from start to finish, but instead I'm left unfulfilled. Somewhere down the line Waking Aida will do something special but this debut isn't that.
2.5/5
'Eschaton' by Waking Aida is out now on Robot Needs Home.
Waking Aida links: Website|Facebook|Twitter|Bandcamp
Words by Sean Reid (@seanreid86)