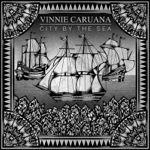 Vinnie Caruana could quite safely be called one of the hardest working men in punk rock. The ex-Movielife frontman has taken time away from I Am The Avalanche and new project Peace'd Out to bring us what has now become the norm in this arena – the solo acoustic effort. You name a band, their lead singer is most probably involved with an acoustic act; whether it be Hot Water Music's Chuck Ragan or Alexisonfire's Dallas Green; even bassists are getting in on the act (Dan Adriano and the Emergency Room). So in a market reaching the same kind of saturation levels as generic metalcore, what makes Vinnie C stand out from the crowd?
Though some hallmarks of compatriots are present here; the gnarled, hoarse bellow, the folksy touches like handclaps, organ lilts and twinkling pianos, and melodies firmly rooted in punk despite the departure, what lifts him from the herd is the brutally honest lyrical content that wowed so many on IATA's most recent effort, 'Avalanche United'. Take for instance 'To Be Dead And In Love' – it's not many songs that would begin with a line as touching as "She moved from Lynbrook, to Brooklyn, back to Lynbrook, in a coffin", commencing a song exploring the concept of everlasting love beyond mortality. The eponymous track is Vinnie's love letter to his current place of residence Long Beach, NY, recently devastated by the effects of Hurricane Sandy, expressing his shared pain with a broken city and going through the healing process side by side.
After 15 years in the business, Caruana has a fair few stories to tell, and this EP's downfall is the rush he is in to impart them. Vinnie has never been a man to slow down much in all his ventures, but much like his beloved Liverpool FC's ventures in the transfer market, these ideas could do with a fair bit more careful consideration. It's very one-paced, no song feels created organically and given space to breath (there are only two tracks longer than three minutes, with only one of those breaking the 3:30 barrier), and thus this snapshot 6-tracker becomes one-dimensional, which is a great shame considering the array of talents Vinnie has at his disposal. His charm and instant intimacy aids him playing live (as evidenced by yours truly at last year's Hevy Festival), but this fails to translate to record quite as well as it could do. A good effort that will be the pet of fans and newcomers alike, but this writer hopes that if a full-length comes along, the stories are given the room they need to develop and grow.
3/5
'City By The Sea' by Vinnie Caruana is out on 4th February on Xtra Mile Records (UK) and 5th February on I Surrender/Run For Cover Records (US).
Vinnie Caruana links: Facebook|Twitter 
Words by Ollie Connors (@olliexcore)