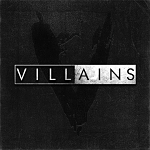 Born from the ashes of Never Means Maybe, Essex's Villains are determined to forge a new history as a new band. So they've got a new name and a new sound. This band is a lot smoother in sound than their former selves, but they're better too. So all things considered, the rebirth can only be considered a success.
'Villains' isn't the most original sounding record. Nor is it the best of those it shares its sound with. That doesn't detract from the punch it packs though. Throughout this album Villains display an ear for arrangement that would turn the most seasons of pop writers' heads. In particular, the layered vocals presented frequently across the record, most notably in 'Visions', give it something extra.
Musically 'Villains' fills that odd void between clean and gritty. Take opening track 'The Way I Tell Them.' There's a rasp to the bass that carries it along between crunching choruses but, for these rough edges, the whole thing is very neat, melodic, and softer than it would have you believe. 'Bleed' showcases the slick guitar that winds its way through the album. Neat riffs between huge choruses give the impression of a song on a precipice, ready to plunge back into another mammoth hook. For all the smart guitar work elsewhere, it's the drums of 'The Light Outlives The Star' that mastermind the most excellent transition – from a soft, moving first verse to the best chorus on the record.
Now, ending your record with the slow one, even if it does have an obvious burst at the end is, as a general rule, lame. Please, bands of the planet Earth, stop ending every record with a slow, ballad type number that's almost always not as good as the album the came before it. Am I just mentioning this because Villains did it and bugged me at the end of an otherwise pretty damn good album? Yes. I am. Shall I drag this paragraph out a little too long; maybe use a whole host of nice sounding words to show you my softer side? Or shall I just leave the review, job done, where it needs to be left?
Despite my annoyance with the last track ( 'The Hardest Part'), Villains could well be on to something here. It's not a perfect record, but it's more than a good start for a band looking to hit the ground running.
3.5/5
'Villains' by Villains is out know.
Villains links: Website|Facebook|Twitter
Words by Thomas Knott (@thislifeishuge)