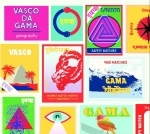 Small time Liverpudlian four-piece Vasco Da Gama certainly have an individual and creative style. With their influences including The Mars Volta and The Dismemberment Plan, I was expecting big quirky and creative tunes. Unfortunately, I have to admit, I was left disappointed and not wanting more.
Vasco Da Gama are a talented bunch, and I highly applaud them for their unique style and creating new music that doesn't just copy the flock. Unfortunately this black sheep just doesn't hit it for me. 'Geography' is a diverse EP, but the tracks leave you confused and to be frank, bored. The tempos are constantly changing along with the different melodies and beats, so the tracks just don't flow. The songs all of a sudden switch to a completely different style which simply just does not work.
<a href="http://vascodagamalive.bandcamp.com/album/geography" data-mce-href="http://vascodagamalive.bandcamp.com/album/geography">Geography by Vasco Da Gama</a>
The EP begins with 'Brigadiers' a delightfully upbeat indie-style track with a unique dancey melody starring cheerful riffs and added pop sounds. The track has potential to be an outstanding hit; the first minute and a half is captivating and makes you want to dance along. After this the track just doesn't grab your attention anymore due to the excessively long instrumental.
'Powder Post' has the same unique individual creative sound and electric guitar riffs with a more melodic stance. The track suddenly changes style with the use of heavy backing vocals and erratic instrumentals. 'Tonight We Will Eat Something With Two Colours In It'  (which is an absolutely ridiculous title) begins with a playful upbeat melody, and the cowbell is really effective. However, once again the erratic track behaviour leaves you feeling underwhelmed, the loud scream with horrifying riffs absolutely destroys the track. I can't understand why Vasco Da Gama thought it was a good idea? The chorus is fantastically catchy, so it's a real disappointment when the song is ruined.
The EP closes with 'The Greenland Problem' the worst track of the whole set. The song lacks a catchy chorus and a good melody. It has nothing about it, nothing amazing, it's just simply weak. It has the unusual style with changing tempos, moving from a depressing slow-tempo track to fast-paced with heavy rock riffs and drums.
'Geography' is an unsettling EP; the tracks have the potential to be fantastic but are ruined by the disjointed changes to the style. Randomly jumping and changing the track leaves the listener confused, and apart from track one you have no catchy tune to sing-along with. The bands quirky odd style is just too experimental. You're unable to relate to the tracks and lyrics, they are missing that raw passion and emotion that really make a smash-hit. 
2/5
'Geography' by is Vasco Da Gama available now.
Vasco Da Gama links: Bandcamp|Facebook|Twitter
Words by Chantelle Kelly