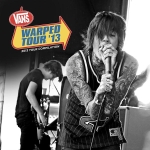 One CD release that no doubt all US alternative music fans will pick up this summer it's the 'Vans Warped Tour Compilation 2013.' Racking in at a pretty big double disc CD of fifty tracks it features some big artists with songs from their new album releases, musically it covers a range of genres to keep it fresh.
Every genre is covered from metalcore to ska punk to punk to even electro and rap. It showcases every genre of music on this year's biggest touring music festival. Some of the US's finest metalcore is featured 'Hope' by We Came As Romans is the catchiest song, 'Vices' by Memphis May Fire brings the riffs and 'Children of Love' by Crown The Empire brings the soaring vocals. For the straight up punk fans, songs by Warped compilation favourites The Exposed, Middle Finger Salute, and Big D and the Kids Table are all featured and bring their brand of punk.
It's safe to say that there is plenty of pop punk with songs by Man Overboard, The Wonder Years, The Story So Far, Mixtapes, Motion City Soundtrack, The Swellers, The Used, Go Radio and The Summer Set are all here and it's a pop punk fans dream.
The stand out song for me on the compilation is by Letlive. who showcase a new song from their forthcoming album, 'Banshee (Ghost Fame)' which is a swirling mix of heavy guitars and thumping drums.
Another noteworthy mention is Forever Came Calling. Having previously followed the tour as an unsigned band and featured in the Warped Tour documentary, 'No Room for Rockstars.' They have now made it on the tour and on this compilation.
You can hear the variety of songs on the compilation which caters for every music lover. Rap artist Itch with his UK influenced rap on 'Sun Goes Down,' VersaEmerge electro fuelled 'No Consequences' to Anarbor's 'Damage I've Done' melody infused rock rhythms.
This CD is perfect for anyone outside the US who loves the lineup this year but can't make it to a show so can just buy this, play it and dream you're right there instead. It covers every genre of music and with 50 tracks in length, people will no doubt like something either familiar or hear something new.
The compilation can be seen as a big promotion for the bands that play the festival, and can help gain new fans yet some artists on the 2013 Warped Tour are nowhere to be seen on the CD. Bands like Architects, While She Sleeps and Tonight Alive are unfortunately absent on this compilation.
3/5
'Vans Warped Tour Compilation 2013' is available now on SideOneDummy.
Words by Aaron Wilson (@soundslikeajw).