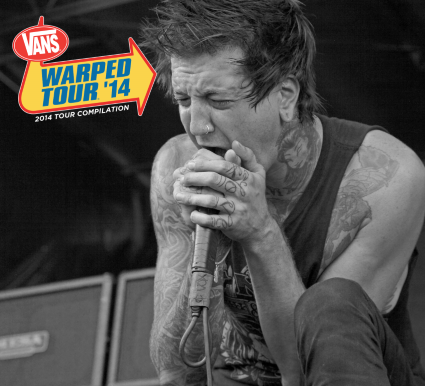 Rejoice! It's that time of year again where every rock/pop-punk/hardcore/metalcore/punk rock loving kid in North America heads to the punk rock summer camp that is the Vans Warped Tour.
Having gone through a few bad years where there were some questionable inclusions on the tour (Brokencyde anyone?), it's now once again an almighty, unmissable tour de force. This year promises to be one of the best Warped Tour's in years with the best of the best in the so-called "underground alternative scene" playing, and to compliment the tour we have this album, the annual 'Warped Tour Compilation'.
Whilst the whole issue of weather the compilation format is worthwhile in an age of iTunes and Spotify playlists, the 2014 edition provides a great snapshot of what to expect from this year's Warped Tour.
First off you've got the likes of Bayside, Saves The Day, Anberlin and Less Than Jake offering older fans to reminisce of years gone by and could be considered "veterans" of the Warped Tour.
Whilst it seems metalcore is a big draw this year with Of Mice and Men, The Devil Wears Prada, Parkway Drive, The Word Alive, and Chelsea Grin being some of the notable names included on here. Sure, they're not founded on the "punk rock" origins of Warped Tour, but you've got to give the kids what they want right?
For fans of the friendly pop-rock variety, you've got the likes of We Are The In Crowd, The Maine, Mayday Parade and The Summer Set. Their contributions are insatiably catchy to the point you can't help bobbling your head along.
For us Brits, we've got Marmozets, Neck Deep and Rob Lynch representing Old Blighty this summer, and the 3 songs on here show just why they deserve to be on Warped.
Marmozets' 'Why Do You Hate Me' is one of our favourite singles of 2014, and we can't wait to hear more. Whereas Rob Lynch's 'Broken Bones' is earnest and down-to-earth with a sensible, feel-good pop spine. Neck Deep's contribution, 'Losing Teeth' is a pulsating, addictive track that shows just why they're one of the biggest names to emerge from the UK pop-punk scene.
Speaking of pop-punk, this year sees bands such as Real Friends, State Champs, and The Story So Far have the opportunity to make their mark as the genre continues its resurgence. With those 3 bands especially leading the way, they're all ideal inclusions for this compilations as they give a glimpse of why pop-punk is back in a big way.
The brilliant Acoustic Basement stage line-up is represented by Brian Marquis, Elder Brother and the emotionally-charged Front Porch Step.
Besides the main alternative underground genres included on here, it also showcases that go beyond the typical Warped Tour sound with acts such as Watsky (rap), Air Dubai (hip-hop), The Protomen (operatic synth-rock) and I Fight Dragons (chip-pop-rock) showing Warped Tour is progressive and has plenty to offer.
Despite the wide range of bands and artists on show here, 'Warped Tour Compilation 2014' suffers from its tracklisting. To put it simply, its messy. One moment you're listening to the slickly produced We Are The In Crowd, the next you're welcomed with the thunderous sounds of Born Of Osiris and Terror.
Sure fans can pick out their favourites, but like I mentioned earlier, they've probably done that using whatever digital service they prefer thus making this whole album somewhat pointless. Otherwise the 'Warped Tour Compilation 2014' is another must-buy for fans of the tour, as it gathers a majority of the best established and emerging bands from both sides of the Atlantic, and wraps it up in some form of messy yet connected ball that allows fans to absorb everything Warped Tour has to offer.
2.5/5
'Warped Tour Compilation 2014' is out now on SideOneDummy.
Words by Sean Reid (@seanreid86)