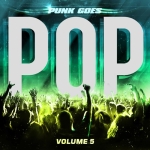 Oh joy! It's that time of year again. No not Christmas, it's time for the latest instalment of the 'Punk Goes…' compilation series. With this being the fifth 'Punk Goes Pop' release, it's clear that Fearless Records are on to a winning formula; take a bunch of pop-rock and metal core bands and have them cover half a dozen of pop hits from the past 12 months with the odd pop classic thrown in here and there and you're left with a mix bag of good and bad songs that constantly split the opinion of music fans.
At this point I could say how none of the bands on here are necessary "punk" but its a tired argument so let's see what treats 'Punk Goes Pop 5' has to offer. As always there are few and far between highlights to pick from. Memphis May Fire's take of Bruno Mars' 'Grenade' gets the album off to an acceptable start but if you're familiar  with these compilations, then it's pretty standard stuff that you're used to. 
After the absurd and messy cover of Carly Rae Jepson's 'Call Me Maybe' from Italian metalcore band Upon This Dawning, Mayday Parade pick things up with a neat and slick take of 'Somebody I Used To Know.' It's a fun, lively take on the Gotye hit with Vic Fuentes of Pierce The Veil providing complimentary guest vocals. 
The next handful of tracks are your typical 'PGP' numbers; We Came As Romans cover The Wanted's 'Glad You Came' with swirly synth keys being mixed with crunching guitars. Like Moths To Flames' take of fun.'s 'Some Nights' starts off well with near-a Capella vocals but then the messy breakdown guitars completely spoil it. Breathe Carolina's cover of the classic 'Billie Jean' must be avoided and in my opinion the song should never be imitated by anyone especially Breathe Carolina.
One thing you must remember when listening to 'PGP' compilations is that there shouldn't be taken to seriously. They're supposed to be fun, harmless collections and although there aren't many stand out moments, tracks like Forever The Sickest Kids' 'We Found Love' (originally by Rhianna) and Craig Owens' take of Coldplay's 'Paradise' are passable and are accepted for what they are. 
Whilst 'Payphone' from Crown The Empire and 'Mercy' by The Word Alive bring the album down towards the later stages; their messy metalcore sound that makes near impossible to identify one band from the next. However it's The Maine who somewhat rescue the album with their surprising re-imagination of Cyndi Lauper's 'Girls Just Wanna Have Fun.' Their laid back pop-rock style completely changes the track and sees the Tempe, Arizona band put in some thought into the track whilst the addition of Taking Back Sunday's Adam Lazzara making a guest appearance isn't instantly recognisable yet it contributes to the track becoming a highlight.
Like I've said already, these compilations aren't for everyone. You either love them or hate them. Like previous 'PGP' releases, there's only a few decent tracks that have longevity whilst a bulk of the compilation is forgettable, yet fans of the series will like 'Punk Goes Pop 5' as it firmly sticks with the formula. It may not be very "punk" but Fearless Records are on to a winner and they're going to stick with it for the foreseeable future.
Now any guesses who's going to cover 'Gangnam Style' for 'Pop Punk Goes 6'?
2.5/5
'Pop Goes Pop Volume 5' is out now on Fearless Records.
Punk Goes Pop links: Official Website|Facebook|Twitter
Words by Sean Reid (@SeanReid86)