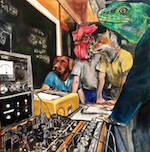 If you've been following the US pop punk, indie, and emo scenes for the past few years, then you're probably familiar with the name Will Yip. Having worked with the likes of Balance and Composure, Title Fight, Citizen, Circa Survive, and Man Overboard, Yip has decided to compile a collection of unreleased material as down payment towards his partnership with Studio 4 in Conshohocken, PA thus giving independent bands to work and record in a large studio enviroment. Anyway on to the compilation.
On paper 'Off The Board: A Studio 4 Family Compilation' comes off as a who's who of the indie/pop punk/emo scene and with that the fact that all of the material on here is previously unheard makes it even more worthwhile. Title Fight open up proceedings with 'Another One', a snappy slice of aggressive hardcore punk that should fill the void for any TF fan until the release of the band's new EP in the coming weeks.
Whilst the inclusion of Circa Survive may somewhat stand out amongst the barrage of Run For Cover/No Sleep acts, 'Nobody Can Change' is an early energetic highlight that manages to put emphasis on the always magnificant vocals of Anthony Green, whilst subtly keeping that atmospheric edge Circa Survive have always had. Green makes a second appearance later on with a solo acoustic number ('The More You Get, The Less You Are') where he onces again showcases his dynamic vocals.
Citizen follow up their superb 'Youth' LP with 'Cicuta', a track that is as emotional and stirring as anything from their aformentioned record. For those who have yet to hear this quartet, 'Cicuta' serves as a perfect intorduction to them. Whereas Light Years and Sainthood Reps keep up the momentum. The former showcase an upbeat pop punk style that should satisfy general fans of the genre, whilst the latter Sainthood Reps bring a decent bit of indie alt-rock to the table.
Although for the most part this a collection of US pop punk, indie, and emo numbers, the likes of None More Black and Polar Bear Club provide a more punk rock edge giving the more compilation even more variety, yet they don't diminish the quality that 'Off the Board…' has from start to finish.
As stated earlier 'Off The Board…' has just about all of the major emerging US underground to crop up over the past few years; Tigers Jaw are sincere and subtly sweet as always, Turnover continue their move away from pop punk to alt-rock with 'Flicker and Fade', Daylight fill in the grunge revialist void, Man Overboard bring a quick blast of straight up "fuck you" pop punk and Pity Sex display their oppressed 90's indie rock-inspired style with the admirable 'Euclid'.
Balance And Composure close the compilation and are as consistent as always. 'Why Do You Leave Us' is angst-y and compelling as anything the band have released to date although like a small selection of tracks on here, it comes off as unused b-side. Nevertheless this doesn't spoil the compilation as a whole.
Whilst compilations may not be as influential or as beneficial as they were 10 or more years ago, 'Off The Board…' serves its purpose greatly as it showcases Will Yip's superb production prowess in a strong light and with a roster of acts to match his quality means this compilation is a must have as well as a good introduction to all of the bands involved.
4/5
'Off The Board: A Studio 4 Family Compilation' by Will Yip (Various Artists) is available now.
Will Yip links: Website|Facebook|Twitter
Words by Sean Reid (@SeanReid86)