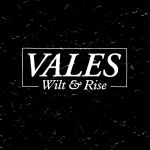 It's been a long time coming, but it was worth the wait. 'Wilt And Rise', the debut full-length by Cornish screamo band Vales, has been one of the most hotly anticipated UK hardcore records in recent memory; the circumstances surrounding its delayed release after being recorded last year in Los Angeles are shrouded in mystery. However, even though it has come after the head of steam Vales had built for themselves has (arguably) dissipated, fans of the subsect of emotive hardcore they inhabit will find this to be another milestone in the continual progression of Vales.
The first time I heard this quartet was when a friend was playing their 'Our Enlightenment Is Dead' demo in his kitchen, a record made whilst they were still trading under their former moniker of Veils. I was taken aback by how masterfully they intertwined the worlds of anguished screamo, the textures and dynamics of post-rock and the aggressive, cathartic nature of hardcore, and even 3 years after that initial moment of discovery, there are still moments on this record that can encourage one's jaw to become detached from one's face. For instance, the double whammy of 'Branches' and 'White Horse', preceded by album-partitioning instrumental track 'Katrina' is highly unlikely to be bettered by a run of tracks on any hardcore album released in 2014. The tracks released prior to this record, 'Dead Wood'  and 'Scripted' are the opening gambit of 'Wilt And Rise', and even though in their own right they may have lacked the relentless inventiveness many hold Vales dear for, they make perfect sense in the context of the record; in the words of guitarist Ben Sullivan, they act as excerpts of "an anthology of the time the band has had together".
The band's main trump card has always been the vocal of Chlo Edwards, and it will come as no surprise to anyone whatsoever that she sounds phenomenal on this record – take for instance 'Survival', where desperate screams soar over coruscating riffs, and the section following a brief lull, a call to arms brought about by an almighty roar of "I have decayed", is wrought from the same depths of emotion the very best vocalists in this game draw from. This may be a short record, but not a single second is wasted showcasing the formidable song-writing talents of Vales – nothing here is throwaway, and tracks like 'Respite' put to shame bands and artists who feel they don't have to try as hard on tracks squirreled away towards the end of the record; the band never let the intensity levels drop, which keeps the listener engaged throughout this very special album.
As the almighty crescendo and coda of 'Waterfalls' lands the last blow of the many that 'Wilt And Rise' has thrown, while hearing this record at long last is an absolute privilege, as the future of the band remains uncertain, the predominate emotion after hearing this record is frustration. Only every once in a while does a band come along with as much potential as Vales possess, and to see them fall astray of the path to becoming something truly spectacular that clearly belay them. like so many others before, is a crying shame. However, as a document of their extraordinary ascent and development in under 3 years as a band, 'Wilt And Rise' should be justly treasured, and represents a huge leap in accomplishment from their fantasic 'Clarity' EP. If you've never heard this band before, may it give you the feeling I had the first time I listened to them – that of rendering you utterly speechless.
4.5/5
'Wilt & Rise' by Vales is out now on 6131 Records and FITA Records.
Vales links: Facebook|Tumblr|Twitter
Words by Ollie Connors (@olliexcore)