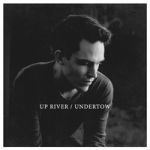 There was a point in the recent past where Brighton threatened to topple the hierarchy at the head of the UK punk/hardcore underground; of that outstanding crop of bands, only Architects remain, with Johnny Truant, The Ghost Of A Thousand and most recently Dead Swans having fallen by the wayside. However, the coastal city is still in rude health in terms of its production line of heavy bands, with Up River finally releasing their debut 'Undertow' after nearly 3 years in action. It seems apt to mention the recent past, as this release pays more than a little homage to the sound of "The Wave" (remember when that was a thing?), in particular Defeater and Touché Amoré. However, unlike the aforementioned Stateside luminaries who have not seized upon the chance to evolve from one record to another, Up River have the chance here to establish the next watermark (no seaside pun intended) for other bands to try and emulate. In some respects, they succeed in doing this, in others, they fall into the familiar traps a first release can fall into of worshipping your heroes a little too gratuitously.
At just over 20 minutes for a 9-track album, it's a remarkably short record; more like a glorified EP than a full-length. While it provides urgency to the material at hand and definitely serves a purpose in that the whole thing can conceivably be crammed into a support slot, there's little here that the listener can really get their teeth into before things move on, ultimately to its detriment. Take 'Withdrawal', for instance – a song that starts off brilliantly, gives way to weighty riffs and impressive screams from frontman Harry, but it's all over just past the two minute mark. It certainly takes the wind out of your sails, but the listener feels as if they barely get to know Up River throughout this release – it's like someone punching you in the stomach and not sticking around to give you any context.
While the genre tropes and atmospherics may feel familiar, the deeply personal lyrical matter stands out – no whinging about the pressures of being famous or pretentious WW2-based "concept record" stories here. There is no doubt Up River have made an accomplished debut here with 'Undertow', but it's only on the very strongest parts of this record, such as the sublime 'Growing Pains', that they really distinguish themselves from compatriots such as Bastions and Goodtime Boys, who have arguably emerged from the shadow of aforementioned forebears. Taken at face value, this is an above average UK hardcore record, with the excellent work of producer Lewis Johns and mastering by Alan Douches (Google him and let your jaw drop at all the records he's worked on) coming to the fore on songs such as 'The Weight', but we may have to wait until a little further down the line until we see Up River truly stand out from the crowd.
While a proportion of the acts that formed "The Wave" seem to be happy to remain in the rut they've carved for themselves, not changing as much as a pair of pants between records, the fall-out of the British equivalent (#UKSWELL) has seen bands pursue creativity relentlessly, constantly bringing fresh new sounds to the fore, and it's the latter camp Up River should be aiming to become a part of, rather than the former. 'Undertow' hardly rests on its laurels like its influences have done, which its relentless energy pays testament to, and definitely establishes the Brightonians as "ones to watch", but lacks the originality to be a particularly memorable or remarkable album.
3/5
'Undertow' by Up River is released on 28th April on Holy Roar Records.
Up River links: Facebook|Twitter|Tumblr
Words by Ollie Connors (@olliexcore)