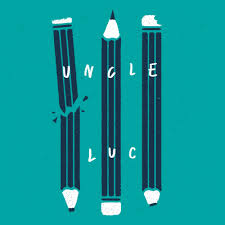 Stagecoach were one of the most underrated indie-pop bands in the UK over recent years, and singer Luke Barham (AKA Uncle Luc) has always been an engaging and likeable frontman.
So his shift to the role of acoustic troubadour is one that is initially both interesting and quite jarring. He certainly thrives when the focus is all on him, and retains that knockabout likability that made Stagecoach so much fun. But 'Humblebrag' also shows up the weaknesses in his songwriting and vocals.
'Leader Boards' is possibly the example of this odd dichotomy. For the most part, it's a gloriously arranged alt-country cut that shows Barham at his best, yet is let down by some cringeworthy lyrics ("We were the underdogs and you were overdogs" just one of a multitude of sins). It's the sort of throwaway line you could get away with as part of a super fun indie-pop band, but when it's the central focus, for me, it doesn't really work.
However, it's not all doom and gloom, as there are enough moments on 'Humbelbrag' to indicate that Barham could develop into a singer-songwriter of note, and his arrangements throughout are consistently excellent.
'Happy Too', is breezy and instantly likeable, yet contains a depth not previously associated with Barham (even if it cites The Human Centipede), while the raw 'Still A Country Song' charts the demise of Stagecoach and captures the bittersweet feeling of letting something you're immensely proud of end.
In truth, though, this is perhaps the major problem with 'Humblebrag'. A Stagecoach-shaped shadow looms large throughout, and while Barham has done much to distance himself from that style and sound, it still feels more apron strings need to be cut before Uncle Luc will be a fully-realised free standing project. Barham's sincerity and honesty – as well as his irreverence – ensure 'Humblebrag' is a promising and interesting debut – but more refinement is needed if Barham is to establish himself as singer-songwriter. He does, however, do a mean Wilco cover…
3/5
'Humblebrag' by Uncle Luc is out now on Super Fan 99 Records.
Uncle Luc links: Website|Twitter|Facebook
Words by Rob Mair (@BobNightMair)