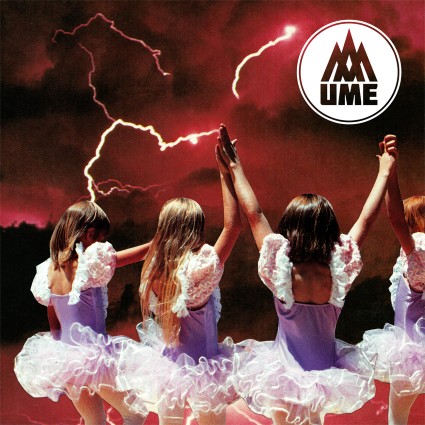 Since forming in the mid noughties, Austin, Texas trio UME (pronounced "ooo-may") have seemingly build a reputation as one of indie rock's most promising bands. 'Monuments' marks their first foray into the UK, and whilst it may not ultimately back up any hype UME may have, it still has plenty to offer.
Stylistically UME fall somewhere in-between rock 'n' roll, classic rock, and garage with a hint psychedelic thus making 'Monuments' a mix bag. Kicking off with 'Black Stone', Lauren Larson's spiky riffs and airy vocals set the tone, and although there isn't a favourable urgency, it's clear Larson along with bassist Eric Larson and drummer Rachel Fuhrer are a tight knit group. It's this that carries the band throughout 'Monuments'.
Early tracks like 'Embrace' and 'Chase It Down' are dominated by towering riffs and soaring vocals, yet have a subtle fuzz that tweaks the band's sound towards a more arty, indie rock approach. It's somewhat refreshing to hear a female-fronted band to take such an approach, especially when a site like this covers the Paramores and the Tonight Alives of the so-called scene. I feel guilty for mentioning those type of bands in this review, as UME are in a completely different spectrum.
Moving forward, the stomping 'Revival' and the ballad-esque 'Barophobia' showcases the band's versatility. The latter is a slow-burning, soft number that allows Larson's words to breathe, whereas the former has attitude and bite, reminiscent of acts like Joan Jett and the Blackhearts.
One of 'Monuments'' highlights is 'Gleam'. Beginning with twindling guitars and Larson's breezy voice before surging forward with harmonious "aah's" and an uplifting drumming. It's a compelling number that sums up the bands musical prowess.
'Monuments'' downfall is that, although overall UME showcase a tight-knit package that has substance, songs like 'Barricade', 'Too Big World' and 'Reason' are ineffective and come off as merely "filler".
Whilst at times it feels you're listening to 'The Lauren Larson Show', she alone has the talent to back up such a statement. Like the band overall, she has versatility that shines bright throughout 'Monuments'. Her vocals are thoroughly confident and her guitar lines thrive off the bands solid musicianship.
On the whole, UME and 'Monuments' is a strong, passionate rock record that doesn't need any gimmicks to be notice. It's clear Lauren Larson and company have the capability to get noticed by their music alone. Forgettable in parts yet an appreciative UK debut.
3/5
'Monuments' by UME is out now on Dangerbird.
UME links: Website|Facebook|Twitter
Words by Sean Reid (@SeanReid86)