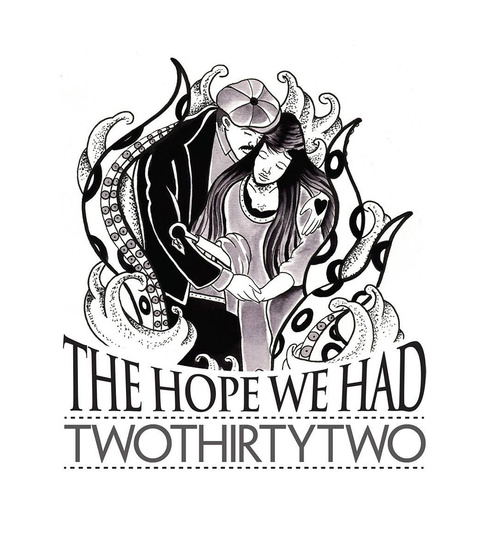 While Aldershot doesn't readily spring to mind as a musical hotbed, it has previously spawned the likes of Hundred Reasons and Reuben. twothirtytwo are the latest to attempt to break out from the garrison town, and they've certainly laid down a marker with promising EP 'The Hope We Had'.
Dark, moody and atmospheric, twothirtytwo play intelligent and literate alt-rock that lies somewhere between the stadium-sized sounds of The National and David Bowie's warbling theatrics. It's an odd juxtaposition, but once you can get your head around this you're in for a treat.
Opener 'Bones' is the pick of the five songs on offer, and if they can match this over the course of an album then twothirtytwo could be on the cusp of something really special. Jangly but grand – like Idlewild circa 'The Remote Part' – it's blessed with a monolithic chorus that would fill any stage across the country.
The Hope We Had by twothirtytwo
Fortunately, twothirtytwo are no one-trick pony and, although the other four songs don't match the brilliance of 'Bones', there's still a couple of other quality cuts of offer. 'Epitaph' has a bit of drive about it (and some rather great backing vocals), while 'The Reprieve' could sit alongside anything on Lonely The Brave's 'The Day's War' and hold its own.
In fact, it's only the title track and its somewhat clichéd lyrics that let the release down. Even then, it's still excellently arranged and expertly played, with the percussive elements – all rolling drums and gorgeously twinkling xylophone keys – being particularly impressive. Finally, a short acoustic track, 'Wolves', adds little, despite being a nice little addition.
Overall, 'The Hope We Had' deserves to find an audience, and certainly twothirtytwo are worth paying close attention to.
4/5
'The Hope We Had' by twothirtytwo is out now on Rose Coloured Records.
twothirtytwo links: Facebook|Twitter|Bandcamp

Words by Rob Mair (@BobNightMair)