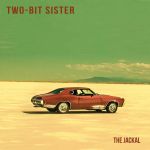 It seems to be a current craze in alternative music for two-pieces to be at the forefront of the scene. The latest duo to burst onto the scene is Margates' Two-Bit Sister. The pair play a blend of old school grunge riffs mixed with catchy lyrics and choruses. Even though their debut record is only four tracks, 'The Jackal' supplies your ears with four very memorable songs.
<a href="http://two-bitsister.bandcamp.com/album/the-jackal" data-mce-href="http://two-bitsister.bandcamp.com/album/the-jackal">The Jackal by Two-Bit Sister</a>
From the opening track, 'The Jackal' has you tapping your toes and nodding along. The track has the a great opening riff that makes you just think of driving down the road on a sunny day with the window rolled down. On first listen Two-Bit Sister's music may come across a bit basic, but by the end of the third or fourth listen, you will find yourself humming along.
My personal favourite track is 'Turbulence'; it sounds like the pair have given a go at the recent so called 'Emo revival', with its gritty guitars and rough vocals, for me is the stand out track of all four.
Even though Two-Bit Sister's first studio outing only comes in just under 12 minutes, they are certainly  12 minutes of great up-beat music that will have you begging for more from the young duo.
4/5
'The Jackal' by Two-Bit Sister is out now.
Two-Bit Sister links: Facebook|Twitter|Website
Words by Tim Birkbeck (@Tim_Birkbeck)