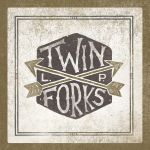 Although the name Twin Forks may be unfamiliar to most, the voice and driving force behind the band most definitely is not. Former Dashboard Confessional main man Chris Carrabba has returned with a new band and the most unashamedly feel good release of the year so far.
Twin Fork's debut self-titled long player sees Carrabba push his Emo leanings firmly to one side in favour of a relentlessly uplifting country and roots influenced folk sound. Now, let's not assume that just because of these influences the whole sound will be massively twee, it's not. Yes occasionally the vibe gets almost as rustic as an old Hovis ad, but as has always been the case with Chris Carrabba's music, melody and harmony is still king.
On track's like 'Scrapping Up The Pieces' and 'Reasoned and Roughned', Carrabba and Mandolin player Suzie Zeldin's vocals entwine to glorious effect, and the prominent presence of Zeldin's Mandolin lines bouncing playfully off of the acoustic guitars adds to the irrepressibly cheerful air of bonhomie that emanates from the whole album. With so many layers of acoustic and slide guitars, and the mandolin featured on 'Twin Forks's more upbeat numbers, an impressive job has been done on the mix to give the feel of the music brimming with life without sounding cluttered or too busy.
Elsewhere the big, big, big, scratch that, huge, sing-along choruses of 'Something We Just Know' and 'Cross My Mind' would leave even mass appeal folk peddlers Mumford and Sons tugging awkwardly at their tweed waistcoats in envy. On a record of many great songs, it's the latter that steals the show and seems destined for exposure on a plethora of adverts and TV and film soundtracks. The whistling section in particular is inescapably catchy and will become entrenched in the brain after just one listen.
With the simple poetic down to earth honesty of Frank Turner at his best and the soaring harmonious, melodic clout of The Polyphonic Spree, it is seriously difficult to overstate just how charming and likeable a debut Twin Forks have created. Every track is an absolute delight of the year, and each sounds better and better with every new listen. There aren't many albums that can give you the sort of warming glow inside normally only created by sinking a shot of single malt. Enchanting and beautifully crafted, Twin Forks' debut is something special and not to be missed.
5/5
'Twin Forks' by Twin Forks is released 17th March on Dine Alone Records.
Twin Forks links: Website|Facebook|Twitter
Words by Dane Wright (@MrDaneWright)