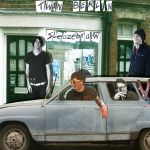 In your formative teen years, I'm sure a fair few of you experienced the local Battle Of The Bands, or something of that ilk. Every gig had the same themes; there was the super-serious metal band with long hair, leather gloves and flame shirts (sample cover: 'Enter Sandman' by Metallica), the excitable young pups full of vim and vigour who'd inherited the discarded records from their elder brothers in the first band (sample cover: 'All The Small Things' by Blink-182), and there were the sixth-formers who'd added a bit of dimension to their record collection and were making serious inroads into looking and sounding seriously cool (sample cover: 'Beetlebum' by Blur). And it's the last bunch, no matter how hard I try to escape the analogy, that Twin Berlin remind me of – while their debut record 'Sleazebrain' does make a decent fist of adapting the sounds of Nirvana and Weezer into their own unique brand of scuzzy garage rock, it sounds unavoidably amateurish – obviously a valued commodity in this genre, but who knows how good this record could have been had the Connecticutians actually learned to play their instruments a little better.
From the initiative offering of 'You're A Problem', the pieces don't seem to quite fit together – while the band play peppy, squealing garage rock, vocalist Matt Lopez's gravelly vocal is far better matched to something rawer and aggressive – his resigned East Coast sigh seems rather ill-fitting to these sunny West Coast melodies. While the intro riff to 'No Fun Not 21' amusingly apes the beginning of 'Frances Farmer Will Have Her Revenge On Seattle', the pain of Lopez not being old enough to drink feels slightly disingenuous next to the bile spewed forth on 'In Utero'; given the band claim themselves these songs are propelled by "anxiety and self doubt", it feels like the trio are all to fixated on their First World Problems. While the bassy mope-rock of 'Wanna Be Your Girl' is the best of the opening gambit on 'Sleazebrain', it feels like a paler imitation of 'Blue Album'-era Weezer than Weezer have become themselves, and at just under five minutes, does stretch a little beyond its welcome.
As soon as the record seems to be getting its act together with the impressive 'Keep Your Mouth Shut' and 'Those Other Girls' (the latter proving a lovely reminder of what The Strokes could've gone on to be if they didn't turn so terribly shit), 'Buzzkill' lives up to its moniker – while its rolling riff grasps the attention, this may be one Nirvana rip-off to many for most to stomach, and while Lopez's vocal sounds more at home in this environment than on earlier songs, it feels a little drowned and underwhelming on this number – unfortunately there seems to be no happy medium. Another double-barrelled salvo is made to save this record in 'Bet You're Okay' and 'You Could Have Warned Me', but they mainly just serve to ram home the imperative point of this record – there is nothing special about it. There are hundreds, probably thousands of bands just like them rocking away in their garage, and there is little on 'Sleazebrain' that sets them apart from the college rock fans strapping on a guitar in the local practice room in Anywheresville, USA – the fact that they're tight with Travis Barker (hardly the most crowning of endorsements these days) is possibly their sole USP.
Twin Berlin do rock out well on 'Sleazebrain', but unfortunately not in a way that is either new or unique – while they may be the toast of their local rock scene, TB provide nothing that hasn't been done or said before to a wider stage, and done(/said) far better than their limited capabilities are able to. As we rapidly approach the 20th anniversary of Kurt Cobain's death, it won't be long before his earth-shattering music fills the airwaves again – comparatively, this barely registers on the Richter scale.
2.5/5
'Sleazebrain' by Twin Berlin is released on 18th February.
Twin Berlin links: Website|Facebook|Twitter
Words by Ollie Connors (@olliexcore)