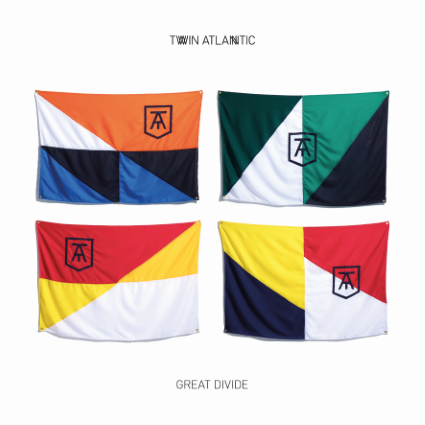 It isn't putting too fine a point on it to say that Twin Atlantic's sophomore long player 'Great Divide' is by far the most hotly anticipated British Rock release of this year. Three years have now passed since the Glasgow four-piece dropped stellar debut album 'Free', pretty much instantly making thousands of fans fall desperately and unendingly in love with it. Since then millions of voices around the world of bellowed every word of hits like 'Free', 'Make A Beast Of Myself' and 'Crashland' adoringly back at the band on successive wildly successful tours.
The main consequence of all of this is that the weight of pressure, expectation and hype faced by any band releasing their second record has been ramped up tenfold. How exactly do you go about following up a debut that was so universally beloved, and one that launched your career into the stratosphere?
For McTrusty and co the first decision was a no brainer, to once again work with producer extraordinaire Gil Norton (Foo Fighters, Pixies), the next involved seeking further studio magic from the legendary Jack Knife Lee (U2, REM); then to complete the hat-trick of steps to completing their world domination, the band set about writing their biggest, boldest, most ambitious set of songs to date. Buoyed by much of the writing being done immediately after stepping off of stages they had shared with acts including the Foo Fighters and Springsteen; and playing to audiences thousands strong for the first time, none of the tracks were ever going to see TA holding back on the scale or conception of their new material.
One fear this raised was that the band may, in the process, lose so much of the delicacy, tenderness and relatable nature of their music that gave them such a strong connection with their fan base. Just seconds into first track 'The Ones That I Love' it's quickly apparent that this fear is completely baseless. The fragile croon of McTrusty's Glasgow brogue giving the feeling of a happy reunion with an old friend after so long without new material from the band as he muses, "Lately I've been wondering, what the hell is going on?" The subtle build and crystal delicacy of the song, backed by a heartbeat style understated rhythm section are the first signs that an extra sense of poise and drama have been added to TA's already impressive arsenal. This is presumably one of the influences of Lee's presence during recording.
If the opener was subtle and understated things rapidly do a 180 degree change in direction as the stadium sized pomp and swagger of 'Heart and Soul' explodes vibrantly into life. The gigantic angular guitar riff struts majestically into McTrusty's most infectiously cocksure vocal delivery yet, then lighting the blue touch paper for the drop of a chorus hook of mammoth proportions.
The confidence and energy remains high through the up-tempo grove of 'Hold On', a track which unleashes a towering vocal that pushes the frontman to his limits and even dwarfs that of 'Free'. 'Fall Into The Party' provides a fun rapturous romp of a track and sets the stage for epic second single 'Brothers and Sisters'. A big, sentimental bonhomie soaked flag-waver of a song that is staggering in its scale and emotional punch.
'Oceans' also brings the sentiment in full force, a fragile and airy vocal ebbing and flowing on a tide of acoustic guitars and strings on a number that will likely be seen as this album's 'Crashland'. The shifts of energy and mood are well balanced throughout the record, and the thoughtfulness is soon balanced out by the straight up ballsy, hooky, rock and roll of 'I Am An Animal', which even goes a bit Queen at one point with a jaunty piano fill.
'Be A Kid' veers towards being purely spellbinding, complete with lyrics dripping with a captivating child-like innocence as McTrusty reflects on the escapist power of music. 'Rest In Pieces' gives a nice moment of uplifting mid-paced balladry, before the distortion and riffs romp back to the fore in frenetic soaring fashion on 'Actions That Echo'.
Twin Atlantic provided the soundtrack to the Stratos jump from space, and on closing track 'Why Won't We Change', the band let their imaginations and lyrics head for the heavens and end 'Great Divide' in a suitably climactic manner resonating with poise, presence and titanic harmonies.
That a better record could possibly be made this year is basically incomprehensible. Forget Biffy Clyro, step aside Bring Me The Horizon and Muse, 'Great Divide' is an irrefutable statement of Twin Atlantic's arrival as the best band in Britain. Sonically and emotionally, 'Great Divide' ticks every possible box that a truly great rock album should in the year 2014. The phrase "essential listening" doesn't even come close.
5/5
'Great Divide' by Twin Atlantic is out on the 18th August on Red Bull Records.
Twin Atlantic links: Website|Facebook|Twitter
Words by Dane Wright (@MrDaneWright)