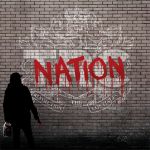 Given that TRC this year celebrated their tenth anniversary of life as a band, it seems a little odd to think that new album 'Nation' is only their second full-length effort so far. 2011's 'Bright Lights' is generally considered the debut release of the band in their current form, and if album number one was the band's gateway to the frontline of UK hardcore, then September's follow-up is the band justifying their place amongst the elite.
There isn't much waiting around for TRC to get all cylinders firing, and just five seconds into opening track 'Finger Fuck You' is the band's first of many bursts of intensity across one of 2013's most incendiary records. In essence, it's the same old TRC from the start doing exactly what they do best, deliciously self-aware hardcore that you can't just shrug off without a good flail-along. The band attack from both ends of their musical spectrum early on, with one of the album's most pumped up sections giving way to TRC at their most withdrawn, pulled harshly back from the throat-wrenching frenzy and transformed into something almost docile in comparison. It's an emotional sidebar to a blistering opener, which gives way into the restored fury of '10,000 Hours'. A little early to be calling on a second wind, perhaps, but it's one that carries the band through 'Motivator' and into their definitive single so far, '#TeamUK'. Describing the explosion of national pride all prettied up with accompanying hashtag as the band's flagship effort to date might not be the most well-received statement in the world, but there's no denying what song has garnered the biggest reception from the band's existing repertoire. Instrumentally massive, perhaps a little lyrically cheesy, perhaps even out of date with its selection of Bullet for my Valentine as the go-to band to shower praise on. It remains TRC to the core however; outspoken, piledriving hardcore that it's so hard to get enough of. And as it continues, 'Nation' continues to cough up beast of a track after beast of a track showing no sign of stopping any time soon.
'Between Two Bridges' shows off a little bit of a different side with female backing vocals entering the equation, while the combination of 'Gold Medal Music' and 'We Bring War' is simply monsterous. There's a camaraderie between TRC and Hacktivist evident whenever the bands share a bill, and tracks such as these make you wonder if there's an ongoing game of one-upmanship between the two. The ball has been sent back into Hacktivist's court with a vicious momentum if there is, and even with TRC seeming to throw everything into 'We Bring War', there's still enough left in the tank for four more tracks. 'Beefeater 1' and 'Beefeater 2' are worth examining in tandem, as the two combine for a brutal bit of twin magic. Beefeater Numero  Uno stands as something of an interlude, while Numero Dos is where the real, ahem, meat lies. 'Ex Games' ensures that the album stays on a roaring high going into its penultimate track, 'Weekend Walls', which gives glimpses of a more melodic side to TRC hidden under the mountain of decibels. Title track 'Nation', meanwhile, wraps up the album with a simple blast of neck-snapping instrumental power. Vocalist Chris Robinson chimes in one last time and with one final flourish, 'Nation' is done.
There's very little left to do as the last chords fade into silence except go back to track one and start over again because as it happens, TRC's second album is a very hard one to shake off. There are plenty of contenders vying to be the voice of UK hardcore, but few are making as much noise as Chris Robinson's behemoths have in 2013. If the band can continue to expand with more records like Nation', it may just be a matter of time until there are no challengers left.
5/5
'Nation' by TRCis out now on No Sleep Records.
Words by Antony Lusmore.