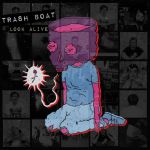 Whenever a genre like pop-punk becomes popular, its inevitable that there's going to be a fair share of imitators and a wealth of new bands become common knowledge. Trash Boat are one of those bands.
Formed at the turn of the year, the St. Albans five-piece have quickly bashed out this debut EP. On first listen 'Look Alive' comes off as your typical run-of-the-mill pop-punk. 'Cluttered Sign' is a pounding, unrelenting opener that shows what Trash Boat are all about in just 2 and a half minutes.
'Boneless' takes things up a notch with a good rhythm, a better structure and an overall better delivery. Whilst lyrically, the band show sincerity from drawing influence from vocalist Tobi Duncan's previous health troubles. He's introspective yet positive (well they wouldn't be pop-punk if they weren't "posi" right?)
'Gnarmalade' sees the band attempting a more hardcore approach, but the end result proves to be ineffective, even phoney. The rapid drumming and guitar work along with the generic vocal delivery is certainly disappointing.
The EP ends with 'Lock-In' and although it's on par with 'Boneless', Duncan's vocals are patchy at times, and the introspective positive theme is slightly stereotypical. Nevertheless, musically it's a buoyant number that gives Trash Boat potential.
For a debut EP from a band that is still taking their first steps, 'Look Alive' is merely ok. Musically they have a decent foundation to build on yet if they are to have sort of longevity, they may have to rethink using the pop-punk clichés and form their own identity. In the meantime, class this one under "For Fans Of: Neck Deep, The Story So Far, State Champs".
2.5/5
'Look Alive' by Trash Boat is out now.
Trash Boat links: Facebook | Twitter | Instagram | Bandcamp
Words by Sean Reid (@SeanReid86)