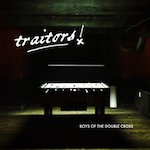 There have been plenty of EPs released this year that are worth taking note of, and this quietly unassuming effort from Herts-based Traitors is one of them. It may not look like much, but their first effort is 13 minutes of fun, melodic pop punk and places them firmly in 2014's up-and-comers category.
First track 'We Will Build Towers' is undoubtedly the weakest, but still remains a catchy indie-vibed effort. With some well-placed gang acapella vocals and the kind of clapping part that translates well live, it's a fun if not exactly awe-inspiring start.
'Hand to Stone' is more pop-punk orientated and a slightly heavier track. The chorus line of "We all die shaking in a box of our own making", sticks in mind and contrasts starkly with the poppy sounding guitars. This song introduces the idea of figuring yourself out, a reoccurring theme for the EP.
<a href="http://traitors.bandcamp.com/album/boys-of-the-double-cross" data-mce-href="http://traitors.bandcamp.com/album/boys-of-the-double-cross">Boys of the Double Cross by Traitors!</a>
Title track 'Boys of the Double Cross' is the strongest track on the EP, fun to listen to and relatable. Opening with the lines "Here's to us the masters of fucking up, let's raise a glass and drink until we pass out". This is more than just a party anthem, it's an exploration of the point of it all. Elaborating with the idea that "it's easy for us to describe all the times we've had because the nights just end the same", it effectively recreates the sensation of being trapped in a small town.
Final track 'To The Library' mixes it up by introducing a female vocalist, which adds to the song, even if it doesn't fit in with the rest of the EP. This is a song of mixed emotions; the chorus ("What is you're holding on for you vacuous fucking fool") is seemingly directed at the singer, not the subject of the song. The end chant, "What's said is said, what's done is done, but in the end time waits for no one" feels like closure, as if the ideas of repetition and stagnation explored in the EP have met a resolution.
Production-wise, 'Boys of the Double Cross' is a little rough and the songs don't always flow together but that's part of its charm. With tighter song writing and slicker editing, Traitors will be ones to watch next year, in the meantime it's worth listening to just to hear friends having fun playing together. A good first effort.
3/5
'Boys of the Double Cross' by Traitors is available now.
Traitors links: Facebook|Website|Twitter|Bandcamp
Words by Jay Sullivan