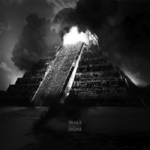 The suburban town of Guildford doesn't have a lot to shout about musically  currently existing (stunningly) punk band The Stranglers hailed from there, and its local festival, Guilfest, which had frankly bizarre lineups that saw James Blunt and N-Dubz rub shoulders with Funeral For A Friend and Gallows, has now been cancelled. Young quartet Trails here emerge from the Surrey's sleepy county town with all guns blazing, here releasing their second EP 'Signs', following on from last years self-titled EP.
Trails seem to be suffering from an identity crisis, where they lurch from one musical style to another, never settling and changing up more often than a chameleon on a rainbow. This scattergun approach works for some bands, but pinning Trails down is like nailing jelly to a wall, and the listening experience is about as pleasant as eating the resultant floor-food. Take preceding single and opener, the vowel-less 'SHT FKR', for instance. It launches in with the kind of "lad-pop" touted by the likes of Don Broco and Blitz Kids, but then it stumbles into the sort of cracked-vocal, soaring chorus Thrice might be proud to call their own. After a cacophonous two minutes, it ends on an a capella bit that would sound brilliant on the back of a six-minute slow-burner, but just plain bizarre after such a short number. The oddness has only just begun.
'Can't Slow Down' restores a little normalcy, combining jaunty mathy-pop in the vein of Gunning For Tamar and Tellison with a heavier edge more akin to Scholars or Reuben, but jarringly ends on a grandiose effects-pedal freakout that really should've been left in the practice room. 'It's All Gone' is where the Thrice influence rears its head once again, this time clashing with the sort of limpid, radio-friendly vibes of a Young Guns or a Deaf Havana; two worlds that should never meet, but somehow have here, and the result is messy, to say the least. The changes of pace on this record are alarming – after a fairly mid-paced number, the eponymous track 'Signs' comes crashing in loud and fast – a wee bit of a belter and a record highlight it may be, but it feels like being unexpectedly gored by a rhino. After this display of brawn and muscle, 'Sinatra' is a slower number, which brings on their very best Brand New impression, but lead singer Sam's vocal sounds horrible here – the cracking from clean vocal into roar is wince-inducing.
The most important thing Trails can learn, it seems, is a little self-control. It's not that the ideas here are bad, or even that badly executed (with the exception of the vocal on 'Sinatra', there's just too many of them crammed into too tight a space. Concentrate on stripping things back and make things far more cohesive, and Trails could be onto a winner – however, for now, there is just far too much going on. Chucking everything in including the kitchen sink does not good music make – ADHD kids might love this, people that dislike being chucked into a musical blender will not.
2.5/5
'Signs' by Trails is out on the 1st March on Lockjaw Records.