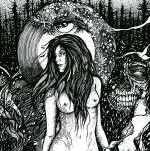 Hailing from Borlange, Sweden, Totem Skin have, in less than a year, doubled in size and made a very good album. 'Still Waters Run Deep' is seven tracks of intense heavy music that starts pretty well and then just gets better.
Opener 'Kargt Landskap' does give the impression that if anything, Totem Skin are just a not so monumental Converge. Following up with the title track doesn't do much to shift the impression – two brilliant songs but two songs cut from a very well known banner. By 'Romans', 'Still Waters Run Deep' has me happily tapping along, thoroughly engrossed in the harsh world the six piece have created.
Then, suddenly, everything changes as 'Atrophy of the Heart' begins and the entire record becomes something else. Out of nowhere comes this majestic piece of swelling hardcore. Better at its heaviest than those three tracks that proceed it, with vocals so harsh they'd make a Great White cry, and guitars that could well shake the Earth. At the same time, the first truly sweeping melodies of 'Still Waters…' appear here, even in those heaviest moments, with just a touch more melody to the riffs, Totem Skin begin to move towards a much stronger grounding.

From thereon in, the band go from strength to strength. 'At the Forest's Edge' is the pinnacle of the album. Legitimately beautiful through layers of what a large number would call unlistenable, Totem Skin are next level captivating.
For me there are two failings across the whole of 'Still Waters Run Deep'. The first is the way the record doesn't hit its potential until almost the half way mark. To be as clear as I can be: those first three tracks are excellent, they're just not becoming of a band that go on to prove how good they can be. The second is that for almost six minutes of the beautiful closing track, 'Seasons' there is near silence. In there somewhere, far too quiet, is dialogue that does enhance the story of the song, but it is too quiet and too much, so that when it breaks again, it feels less of an expected build and move of a jarring surprise.
For a first full length, however, there is little to fault really. There is more beauty in these seven tracks than there is in much of the frequently saturated genre to which Totem Skin may claim to belong. Massive.
4/5
'Still Waters Run Deep' by Totem Skin is out in late November on Dog Knights Productions.
Totem Skin links: Facebook|Bandcamp
Words by Thomas Knott (@nounandthenouns)