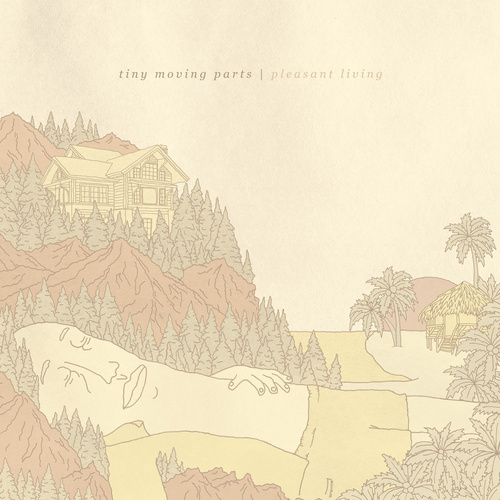 Many people would have been more than happy if 'Pleasant Living' was simply a rehash of Tiny Moving Parts' 2013 breakout 'This Couch is Long & Full of Friendship'. I wasn't one of them.
While 'This Couch is Long…' was a promising debut, it was also frustratingly idiosyncratic, interspersed with audioclips of a sobbing man which I didn't much care for, and it felt like there was little difference between the songs. I enjoyed it, but there was little to mark them out as ones to watch. Fast forward to earlier this year and their split with Old Gray saw a huge improvement with them returning with a fuller, more dynamic sound – and a couple of really great songs ('Swimming Lessons' in particular is stellar).
Which brings us to 'Pleasant Living'. Freshly signed to Triple Crown Records, it represents another huge step forward for the Minnesota family band and puts them firmly alongside Modern Baseball and The Hotelier as leading lights in the current US underground.
Indeed, fans of the aforementioned acts will find plenty to get excited about in Tiny Moving Parts, despite the differences in sound and delivery. Far more mathy than their counterparts, with almost semi-spoken vocals in places they're an interesting conundrum – but have smoothed out their rough edges with huge swathes of melody and some rather fantastic choruses. They're also wilfully playful. Opener 'Sundress' sounds nothing like anything found on 'This Couch is Long…' and those expecting a re-run of their debut would be under no illusions that this was not the case after it finishes. Almost Braid-like (but if Hot Water Music were on backing vocals) it's a three-minute pop-punk blast that reigns in the noodle moments in favour of a massive chorus – and it is sublime. In fact, I had to check a couple of times that it was a Tiny Moving Parts song, such is the progression. Ones for pigeonholing, these boys are not…
The progression continues – especially during a rather spectacular opening six songs. 'Always Focussed' shows they can still noodle with the best of them, but never stretches things too far, instead keeping with a strong melody and chorus, while 'Fourth of July' – one of the standouts – is a stop-start, quiet-loud epic and sees the re-introduction of a string section and female backing vocals – something dabbled with on 'This Couch Is Long…' . It's brilliantly effective and adds yet more depth to their growing sound.
And further evidence can be seen in the breezy 'Whisky Waters'. The cynic in me could say it was written purely with commercial success in mind, but there's no getting away from the fact that the chorus is monolithic. It combines just enough of all of their different elements to create a quite brilliant, bouncy, pop-punk song. Like Modern Baseball's 'Your Graduation', it's an easy-on-the-ear crowd pleaser and should kill live.
Sadly, the second half of 'Pleasant Living' can't quite match the blistering opening, but there's still some gems buried in there. 'Boxcar' (no, not the Jawbreaker one – a clarification journalists must be sick of making…) is an enjoyable blast, while 'Entrances and Exits', despite being all-too-brief is a real understated beauty. That said, the album would be all the better if 'Spring Fever' was left confined to the practice room.
Overall, though, this is clearly just the start for Tiny Moving Parts. With a UK tour a possibility in 2015, now is surely the time to get on board and enjoy some 'Pleasant Living'.
4/5
'Pleasant Living' by Tiny Moving Parts is out now on Triple Crown Records.
Tiny Moving Parts links:
Facebook|Twitter|@BobNightMair
)