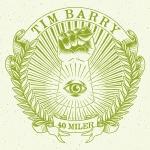 Currently on the road with Frank Turner, Tim Barry releases his fifth solo album '40 Miler,' his first on Xtra Mile this month (for my money the best UK label at the moment.) Whilst this is definitely not a coincidence, it is perhaps very apt. Barry is very much comparable to Turner and artists like Brian Fallon; a strong sense of Americana and a debt to Bob Dylan and Bruce Springsteen run through his music. 
From the opening strains of 'Wezeltown,' Barry's heart shines through. It is a heart and ethos shared by Chuck Ragan and Dave Hause. Taking influences from country music, traditional rock 'n' roll and even a hint of blues, 'Wezeltown' is a joyous ode to travelling.
'Driver Pull' is again about travelling, romantic but more of a lament. Softer, acoustic and quite gorgeous to listen to, it meanders along like a highway, no end in sight. 'Miler' widens the album's focus to the music scene in which he finds himself, with lyrics that speak of a passionate and honest approach to music, still rooted in the lexicon of travelling. The refrain "music should sound like escape not rent" punctuates the track and is a perfect mantra for Barry and his compatriots. 
I'm not sure 'Adele And Hell' is about the moody British female singer-songwriter but I find it much more entertaining to imagine it is. It is an upbeat, toe-tapping, harmonica-led ditty nonetheless, connecting to the album's blues roots strongly. 
Barry is an upbeat songwriter and this comes through especially in 'Fine Foods Market' which showcases his wry sense of humour, his hatred of flannel shirts and his love of a good hand-clap sing-along. It is heart warming, hilarious and the best rant I think I've ever heard committed to song. In fact it is this song that solely raises the album above the mediocre, it is that good. 
'Amen' is the last track proper on the album and is again upbeat, hopeful, and honest. It is a summarisation of a set of values and an idea of a community and very much reaffirms the positive messages of the album, making it a fitting concluder.
'40 Miler' is an album influenced by the American Dream, by Kerouac and Dylan. Romantic and hopeful, it is an album that is in places corny, in places inspired, but always beautiful and earnest. It will stick in the throats of some as being too clichéd. Barry is certainly not the first singer-songwriter to tour in a van, put music over money and play in tiny venues but he seems to martyr himself for it a little bit. However, there is heart in these delicate travelling songs and I for one think this is a quite wonderful album. 
3.5/5
'40 Miler' by Tim Barry is available now on Xtra Mile Records.
Tim Barry links: Official Website|Facebook|Twitter
Words by Tom White (@whiteywitters)