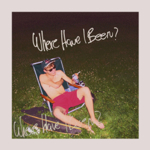 In less than two short weeks, New York trio Tilde release their debut EP, 'Where Have I Been?' And if this, or even the band's existence is news to you, then where have you been? Certainly not around these parts, where the three-piece have been making a fair few waves recently. 'Where Have I Been?' has already made it into our must-have releases for August, and 'Bummer Vacation' met a decent reception when offered as a free download here last month. The important questions are now rearing their head, however, and in the centre is the most important of all: will the EP live up to the hype that has begun to form around it?
As it turns out in the early going, signs are good. 'That Great Lifestyle' kicks off the album in a haze of distortion and feedback; a brief spin of the wheels before the engines roll into life on a simple but incredibly effective opening number. Comparisons to the likes of TWIABP and Tigers Jaw have almost become cliché when summarising the band, but there is good reason, and you can certainly hear the similarity without too much effort. The trio describe themselves as "punk(ish?)", but it's by no means a stretch to fit them into the similar emo-tinted indie world occupied by the aforementioned pair of bands. It's good company to be in, and Tilde represent them well as the EP rolls on through 'Headquartered' and 'Everything Happens So Much'.
With the record hitting its half way mark, the band offer up an interlude to keep things ticking over, and there is a minute in which to reflect on what has been, up to now, a relaxed yet incredibly refreshing effort that is well worth the attention. There's no outburst to the tracks, nothing you would perhaps describe as a "belter" or an "anthem", but you get the feeling that isn't what Tilde need for this EP to go down well. The strength of 'Where Have I Been?' is in the atmospherics, a melodic oasis of sorts in a month already bursting with more intense releases. Tilde lie at the opposite (though by no means the lesser) end of the spectrum, providing an immersive and laid back alternative to the growing lineup of rockier releases that dot the calendar.
Naturally, the reflection on the relaxed nature of  the album thus far is the band's cue to turn up the pace a fragment before the album sounds off. If you've been following the band before now then you're likely already familiar with 'Bummer Vacation' and if not, then it's a track that you should definitely find a place for, because it may just be Tilde's standout track right now. It's the dance-along piece of the EP if ever there was one, which works out nicely as following effort 'The One You Always Forget' is it's resident singalong-inducer. Certainly not one you'd want to forget, the last of the record's main tracks takes it out in a blaze of glory, before a trio of bonus tracks close out the band's debut release. 'Gaze' and 'Bones' are acoustic aids to the comedown from a solid twenty minutes of music, before 'Murder Your Darling' wraps it all up with a pounding exit. The bonus tracks aren't intended to take attention away from the record's main tracklist, merely to supplement it as the EP draws to a close. In this sense, they do their job nicely, drawing a line under this record that seems likely to be the first of many to come from the band. It's been proven on repeated occasions that Tilde's sound is not unwelcome in today's world, and with 'Where Have I Been?' in the bag, a new question rears its head, leaving you to ponder where the trio are going to be, in time. With all things considered up to now, you can't see them struggling too much.
4/5
'Where Have I Been?' by Tilde is released on 12th August through Close To Home Records.
Tilde links: Facebook|Bandcamp
Words by Anthony Lusmore (@Metacosmica).